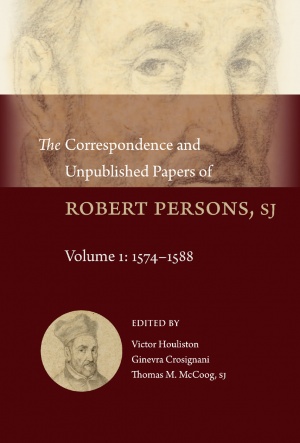 The Correspondence and Unpublished Papers of Robert Persons, SJ, vol. 1: 1574–1588
Studies and Texts
Forthcoming January 2018
Studies and Texts 207; Catholic and Recusant Texts of the Late Medieval & Early Modern Periods 4. 2017. xx + 730 pp. ISBN 978-0-88844-207-9 • Cloth • $115
Robert Persons is recognized as one of the most intriguing public figures of the Reformation era in England. As the superior of the Jesuit English mission from 1580 until 1610, he was engaged in a campaign for the reconversion of England that had wide political, ecclesiastical, pastoral, and polemical ramifications. Awareness of his importance has increased with the rapid growth of early modern British Catholic studies. His career continues to prompt much debate, especially over his political attitudes and activities; hence the need for a comprehensive and up-to-date edition of his correspondence.
This book is the first of a projected three-volume edition which aims to contribute to our understanding of Robert Persons's significance in early modern European history. It includes documents and letters by Persons, as well as letters to Persons, notably from the superior general of the Society of Jesus, Claudio Acquaviva. Letters in Latin, Italian, and Spanish are presented both in the original language and spelling, with English translation, and letters in English in original spelling. All letters have been collated with the extant manuscript witnesses. The introduction comprises Persons's biography, relevant aspects of early Jesuit history and the Jesuit mission to England, and overviews of the papacy and the political situation in England and Scotland, France, the Netherlands, and Spain, for the period 1574–88 covered by the letters in this volume.
Ordering
Customers in North America please order through University of Toronto Press Distribution.
Customers outside North America please order through Brepols Publishers.