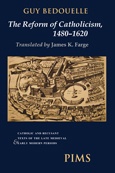 The Reform of Catholicism, 1480–1620
Translated by James K. Farge. ST 161; Catholic and Recusant Texts 1. 2008. xii, 172 pp. ISBN 978–0–88844–161–4 • $25.95
An excellent introduction to early modern Catholicism for undergraduates from departments of History, Theology or Religious Studies that also plugs an important gap in the market for the interested layman.
View prelims and contents
Ordering
Customers in North America please order through University of Toronto Press Distribution. Please contact UTP Distribution directly by email, phone, or mail (PIMS books are not available through the UTP online catalogue). PIMS books are also available on Amazon.
Customers outside North America please order through Brepols Publishers. PIMS books are available through the Brepols online catalogue.
To view our desk copy policy, click here.