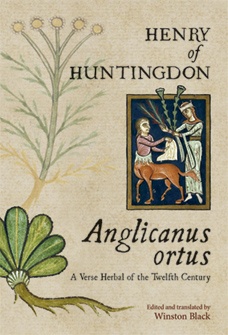 Henry of Huntingdon. Anglicanus ortus: A Verse Herbal of the Twelfth Century
ST 180; British Writers 3. 2012. xiv, 562 pp. ISBN 978–0–88844–180–5 • $175.00
NOTE: Co-published by The Bodleian Library (ISBN 978–1–85124–284–9). Customers in Europe, including the United Kingdom, please order from Bodleian Library Publishing
Written entirely in Latin verse, the recently discovered Anglicanus ortus describes the medicinal uses of 160 different herbs, spices, and vegetables.
View prelims and contents
Ordering
Customers in the United Kingdom and Europe: please order this title from Bodleian Library Publishing.
Customers from other territories: detailed information about ordering, including methods of payment, is available on our ordering page. PIMS books are also available on Amazon.