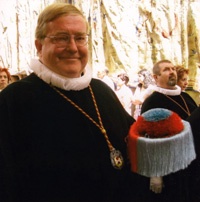 Roger E. Reynolds (1936–2014)
Senior Fellow, Pontifical Institute of Mediaeval Studies
In memoriam
Roger Edward Reynolds, Senior Fellow Emeritus of the Pontifical Institute of Mediaeval Studies and Professor Emeritus of the University of Toronto, died in Mississauga, Ontario, on 24 September 2014. For his family and friends, Roger's passing leaves a gap that can only be filled by memories of his warm presence, generosity, and good humour. Roger's professional contributions are marked by the same characteristics, where he leaves a valued contribution to scholarship on the Middle Ages through his teaching, his continued research, and the remarkable interest he generated in medieval liturgy, canon law, and manuscript sources in these fields. In the pages that follow, recollections of Professor Reynolds's former students are combined with a detailed account that he provided of his own recollections, education, work, and interests as a record of his academic career.
Roger was born on 4 June 1936 in Denver, Colorado, to Lewis Alfred Lovett Reynolds and Marjorie Madeline Todd, the daughter of an immigrant from Denmark who was at one time a gold miner in Colorado and one of whose sons, Roger's uncle, was a noted trick marksman with Buffalo Bill's circus. Roger's father—a manager with Safeway—and his mother—a typist, stenographer, and calligrapher, and later a concert pianist, piano teacher, and professional singer—were married in the depth of the depression and raised Roger with his brothers Lewis Todd and Mitchell William and his sister Noel Rose. Roger's memories of his early years during World War II include growing victory gardens and collecting scrap metal and paper. After his father returned from military duty and bought a small farm southeast of Denver that allowed his children to experience rural and agricultural life, Roger and his younger brother raised and sold various animals and produce, winning numerous prizes at local, regional, state, and national fairs in competitions on husbandry and gardening.
At South Denver High School, noted for its impressive European architectural style based on the early medieval Lombard-style basilicas, he played varsity basketball and was involved in the ROTC program, receiving medals for rifle marksmanship, leading the drill team and color guard, and rising to the rank of Lt. Col. Commander of the school's battalion. On graduating, he was awarded scholarships to Harvard, Princeton, and Dartmouth and chose to follow his older brother to Harvard, where his younger brother followed in the next year. There he acquired his interest in medieval church history and immersed himself in medieval art history, history, and literature with such scholars as Charles H. Taylor, George H. Williams, Milton Anastos, David Wright, and Elizabeth (Peggy) Brown. His undergraduate honors thesis, written under Gavin Langmuir, was on changing ideas in early medieval Christology as reflected in art, literature, and theological treatises. Like his brothers, he was a member of Lowell House, where he enjoyed each Sunday the concerts on the Russian bells saved from the Danilov Monastery in Moscow, on which he later wrote articles. He was also a member of the varsity lacrosse team and house squash, football, and softball teams and supplemented his scholarship by working in the College dining halls and as an assistant in the Psychophysics Laboratory to such scholars as B. F. Skinner, Endel Tulving, E. G. Boring, and Joseph and Smith Stevens.
After graduating from Harvard College in 1958, he entered the University of Chicago Law School, winning the Harvard-University of Chicago Law School National Honor Scholarship, and during that time he married his first wife, Ruth Ilona Grevengoed. Since his principal interest remained in medieval church history, on receiving his Juris Doctor degree in 1961 he returned to Harvard, at the urging of Chicago professors Jaroslav Pelikan and Max Rheinstein, and was awarded the Hopkins Share, the oldest charitable trust in English-speaking North America, at the Harvard Divinity School. There he studied medieval church history under Giles Constable, George H. Williams, Heiko Oberman, Georges Florovsky, Gilles Quispel, and Krister Stendahl, as well as medieval Islam with Robert Bellah, medieval manuscripts with L. M. J. Delaissé, and biblical archeology with G. Ernest Wright and Frank Cross. He was also manager of the Divinity School Bookstore, and at this time his first child, Michele Rose, was born. Mindful of the scarcity of academic positions in medieval church history, he transferred into the Graduate School of Arts and Sciences in the History and Philosophy of Religion program at Harvard, where he continued to take courses and worked as an assistant to George Williams and as a Teaching Fellow in the University and Divinity School. He was introduced at this time to early medieval canon law by Msgr. J. Joseph Ryan of St. John's Seminary, Brighton, and the Pontifical Institute of Mediaeval Studies in Toronto. With a Ph.D. thesis prospectus on the relationship of the clerical orders of bishop and presbyter in the Gregorian Reform period, Roger was awarded Harvard's prestigious Frederick Sheldon Travelling Fellowship and brought his family to Europe, where he came into contact with European scholars and scholarship in medieval studies and consulted medieval manuscripts in nearly every western European country, searching for early medieval texts in canonical, liturgical, and theological codices describing the various orders of the ecclesiastical hierarchy. After the year in Europe, he returned to Harvard on a Rockefeller Doctoral Fellowship and completed his doctoral thesis, "Sacred Orders in the Early Middle Ages: Shifts in the Theology of the Lower and Higher Ecclesiastical Orders from Late Patristic Antiquity through the Early Middle Ages as Reflected in the Ordinals of Christ and Related Literature" (1968).
Though asked to join faculties at four universities in the United States, at the urging of Giles Constable he chose the History Department at Carleton University in Ottawa, Canada, a vibrant department with four medievalists and funds for research and research tools, and near the extraordinarily rich research library of the Sedes Sapientiae, founded and administered by the French Oblates of Mary Immaculate (later St. Paul University). As Assistant Professor (1968–71), Associate Professor (1971–77), and Professor of History (1977) he taught undergraduate and graduate courses in medieval civilization, institutions, and cultural and intellectual history, while publishing studies and editions of texts on the ecclesiastical orders and medieval liturgy and law in Mediaeval Studies, Revue Bénédictine, Speculum, Studia Gratiana, The Harvard Theological Review, and other journals, presenting lectures and continuing manuscript research in North America and abroad, and enlarging his personal library with research books discarded by Canadian Catholic seminaries. He served on many committees at Carleton, including the library committee, on which he was instrumental in the acquisition of the collection of Karl Strecker of the Monumenta Germaniae Historica, with the annotated volumes, offprints, and copies of manuscripts of the Monumentists in Berlin and then Munich. During this period Roger and his wife were involved in the Right-to-Life movement, giving talks at secondary schools and building up a local arm of Birthright, and as a result of this they adopted three more children, Persis Joan, Nathan Alfred Ten Brink, and Caleb John Todd, all of whom they took with them on subsequent research and sabbatical trips to Europe.
In 1977 Professor Reynolds came to Toronto as a Visiting Fellow in Liturgy at the Pontifical Institute of Mediaeval Studies, and after being elected Senior Fellow that same year he remained in Toronto for the rest of his career, serving on the faculty of the Institute and the School of Graduate Studies of the University of Toronto as Professor in the Centre for Medieval Studies. When the Institute had been founded a half century earlier, the curriculum was to include introductory and advanced instruction in the liturgy of the Middle Ages along with instruction in the areas of philosophy, theology, history, canon law, and literature, as well as training in palaeography, editing, and archaeology. Vincent L. Kennedy, as a Fellow of the Institute, taught courses in liturgy and worship from 1935 to 1961 in order to provide this key component of the Institute's academic curriculum, but in the following fifteen years, a period that included important developments in the coordination of the academic programs of the Institute and University of Toronto, the Institute's course offerings did not include specialized instruction in the liturgy of the Middle Ages. A Visiting Fellowship held by Arnold Angenendt in 1975–76 initiated a revival of the Institute's liturgy program, and with the arrival the next year of Roger Reynolds as Visiting Fellow and his appointment as Senior Fellow of the Institute and Professor of the University of Toronto, the liturgy program flourished as an element of the core curriculum and a field of advanced study and research. In addition to instituting introductory and advanced courses in the liturgy and liturgical books of the Latin Middle Ages and subsequently developing courses in liturgical commentaries and specific subjects in the history of Christian worship, ceremony, clerical orders, and monastic culture, he taught courses in another area of his expertise, medieval canon law, and combined the study of liturgy and law by offering instruction on the canonistic sources of liturgy. He also taught courses in theology and codicology and directed the doctoral and licentiate theses of over two dozen students, who have gone on to hold academic positions in Europe, Britain, Canada, Australia, and the United States. As Senior Fellow Emeritus in the dozen years after his retirement, he continued to participate in the academic program of the Institute, offering his services as an advisor in the postdoctoral L.M.S. program and contributing to the seminars.
In his own research and in his instruction and supervision of students in the M.A. and Ph.D. programs of the University of Toronto and the licentiate program of the Institute, he placed considerable emphasis on the study and editing of manuscript sources examined in situ in libraries or archives throughout the world and through reproductions. It was this work on manuscript sources related to his liturgical expertise that led to the major research project he established with his colleague at the Institute and University of Toronto, Virginia Brown, and his former student, Richard Gyug. Virginia's interest in finding, cataloguing, and studying codices and fragments from southern Italy and Dalmatia written in Beneventan script complemented his own interests, since in the late 1970s he discovered that of the hundreds of manuscripts written in that script, over 70% was liturgical and many of these manuscripts had been dated too early by E. A. Lowe in his magisterial work, The Beneventan Script. The resulting research project of the Pontifical Institute of Mediaeval Studies, Monumenta liturgica beneventana, has been supported since 1988 by grants from the Social Sciences and Humanities Research Council of Canada. The work produced as part of the project in a subseries of books published by the Institute's Department of Publications, in the Institute's journal Mediaeval Studies, and in other publications includes editions and studies prepared by the members of the project and by other contributors. After the untimely death of Virginia Brown in 2009, Roger became the principal investigator and established in the Institute library an "Archivum Scripturae Beneventanae" containing their rich research collections of notes, microfilm, facsimiles, and volumes dealing with Beneventana and Dalmatiana.
The extensive publication record that Roger Reynolds had started before his arrival in Toronto continued during his career at the Institute and after his retirement. He published over a hundred journal and Festschrift articles and book chapters on medieval liturgy, law, sacred orders, Beneventan and Visigothic manuscripts, and other subjects, nearly a hundred encyclopaedia entries including a number of major articles in the Dictionary of the Middle Ages, and dozens of reviews and memorial notices in addition to his books, The Ordinals of Christ from Their Origins to the Twelfth Century, Beiträge zur Geschichte und Quellenkunde des Mittelalters 7 (Berlin and New York, 1978; rpt. 2013); The Collectio canonum Casinensis duodecimi saeculi (Codex terscriptus): A Derivative of the South-Italian Collection in Five Books, Studies and Texts 137, Monumenta Liturgica Beneventana 3 (Toronto, 2001); and (with Douglas Adamson) Collectio Toletana: A Canon Law Derivative of the South-Italian Collection in Five Books, Studies and Texts 159, Monumenta Liturgica Beneventana 5 (Toronto, 2008). Many of his articles have been reprinted and supplemented in his four Variorum books, Law and Liturgy in the Latin Church, 5th–12th Centuries (1994), Clerics in the Early Middle Ages: Hierarchy and Image (1999), Clerical Orders in the Early Middle Ages: Duties and Ordination (1999), and Studies on Medieval Liturgical and Legal Manuscripts from Spain and Southern Italy (2009); and among the publications he has edited in the Monumenta liturgica beneventana subseries, he has prepared the preface and comprehensive indexes to Virginia Brown, Beneventan Discoveries: Collected Manuscript Catalogues, 1978–2008, Studies and Texts 179, Monumenta Liturgica Beneventana 6 (Toronto, 2012). In addition to his publications, he has presented over 250 academic papers, addresses, and television or radio programs on liturgy, law, clergy, and Beneventan manuscripts.
During his career in Toronto he served as Academic Secretary and Graduate Coordinator of the Centre for Medieval Studies (1978–82), charged with overseeing admissions, fellowships, and financial aid, and as Secretary of the Pontifical Institute of Mediaeval (1984–87), coordinating the academic programs, advising students, and overseeing financial aid and research associates, and he also served on dozens of committees in the Institute, the Centre, the University of St. Michael's College, and the School of Graduate Studies in the University of Toronto. His many years of administrative service and involvement in the academic, research, and publications programs of the Pontifical Institute continue to be valued by his colleagues as a significant contribution to the traditions and strengths of an institution known internationally for research and teaching in the many disciplines of medieval studies, and for its library, publications department, and other resources. The development of the library was always one of his major interests. As a fellow of the Institute he recommended for purchase hundreds of volumes and manuscript microfilms, and he assisted in the library's acquisition of important collections, in particular obtaining from Jane Revere Coolidge Whitehill the precious library of medieval material collected before the Spanish civil war by her husband, the distinguished art historian and liturgist of medieval Spain, Walter Muir Whitehill, who had been Roger's professor of Colonial American and Boston History, Senior Tutor in Lowell House, and friend at Harvard; Roger personally selected the volumes from the enormous collection housed in Dr. Whitehill's barn in North Andover, Massachusetts, transported them to Toronto in his Volkswagen van, and organized the official installation of the collection in the Institute library. In addition, during the short period in which he was the Librarian of the Institute in 1996, he obtained the magnificent facsimiles of the illustrated Sacramentary of Warmund of Ivrea (Ivrea, Biblioteca Capitolare 31 [LXXXVI]) and the eleventh-century De universo of Rabanus Maurus (Montecassino, Archivio dell'Abbazia 132), illustrations from which continue to adorn the Institute's website.
As part of his contribution to the Institute, Roger put considerable emphasis on its outreach. After his term as Secretary of the Institute, Roger retained his administrative office and had it remodeled so that it could house his personal facsimiles of liturgical manuscripts and Exultet Rolls and serve as the meeting place for the "Mensa liturgica mediaevalis" he hosted—a group of faculty, students, and friends from the Toronto area who met occasionally for lunch and presentations on topics of interest related to liturgical art, church ceremony, and other subjects. He was enthusiastic in publicizing the work of the Institute outside academic circles, such as arranging the gala reception, dinner, and exhibition of the Institute's research materials and accomplishments at the Four Seasons Hotel to complement the bestowal of an honorary doctorate on Sir Peter Ustinov in 1995, and he was a frequent guest on national television and radio explaining the various holidays and rituals of the medieval church.
He also served on boards of advisors of many journals and research institutions. Through his work as advisor to the Hill Museum and Manuscript Library at St. John's University in Collegeville, Minnesota, he arranged for the acquisition of microfilms of the significant collections of early manuscripts listed in Klaus Gamber's Codices latini liturgici antiquiores and E. A. Lowe's Codices latini antiquiores. He was also elected for five terms as the Canadian representative to the Presidium of the the Iuris Canonici Medii Aevi Consociatio.
Among his many honours Professor Reynolds was elected in 1987 as a Corresponding Member of the Zentraldirektion of the venerable Monumenta Germaniae Historica in Munich, the first Canadian and second native American so honored; he was elected in 1985 to the Cofradía Internacional de Investigadores in Toledo, Spain, in which he was invested by the Cardinal Primate of Spain in 2002; and he was elected in 2000 to the elite Societat Catalana d'Estudis Litúrgics in Barcelona. He was also appointed as the George William Cottrell, Jr., Member of the School of Historical Studies in the Institute for Advanced Study, Princeton (2001–2002), and in 2011 he was made a Marian Knight Grand Cross Commander of the Teutonic Order, Prior and Bailiff of the Priory of Königsberg. He was especially touched by the 2004 Festschrift containing articles on medieval law and liturgy written by his colleagues and former doctoral students from Canada, the United States, Britain, France, Belgium, and Germany—Ritual, Text, and Law, ed. Kathleen G. Cushing and Richard F. Gyug (Ashgate)—presented to him at a special reception in his honor at the Twelfth International Congress of Medieval Canon Law at the Columbus School of Law, Catholic University of America.
While continuing his research, academic publications, direction of postdoctoral researchers, and lectures in Europe and North and South America after his retirement in 2001, Roger embarked on a second career following his marriage in 2004 to Liubov (Luba) Alexeevna Ivanitskaya, whom he had met in Kaliningrad, Russia, while visiting the state university there. She had diplomas in restaurant and hotel management, had worked in these fields in the Ukraine and Poland, and had begun to design and deal in the amber jewelry of Kaliningrad, source of over 92% of all Baltic amber. Roger thus "backed into" this business and became an amber expert in his own right. For over a decade they exhibited Russian Baltic amber jewelry in scores of international exhibitions, winning prizes for their design, and Roger was invited to give lectures on amber, the amber trade, and the renowned Amber Room; in addition, each spring they have attended the International Congress of Medieval Studies in Kalamazoo, where Roger has organized academic sessions and presented papers on his research in liturgy and manuscripts while also having a booth at the book exhibit with Luba, displaying amber. Their home in Kaliningrad, as all his others, was filled with Russian icons that he and Luba, a faithful member of the Russian Orthodox Church, had collected.
While Roger's accomplishments and honours summarize his professional career, they convey incompletely what marked his personal influence, and made him an effective teacher and mentor. For Roger, the study of sources was fundamental, as his publications demonstrate, but he also made clear to his students and in his many, beautifully delivered, public presentations, that the material past was captivating, fascinating, and precious. His enthusiasm, indeed passion, for medieval objects was infectious. He never tired of looking in churches, little museums, or at another manuscript. Although he was a champion of source studies because he thought it was the best kind of scholarship, it was also the scholarship that best suited his love of medieval objects.
As might be expected of one specializing in the history and liturgy of the medieval church, Roger loved the liturgies of modern churches whose rituals reflect medieval traditions. He had been baptized in Denver's Church of St. Michael and All Angels and later was a member of churches with Anglican high church rituals: Boston's Beacon Hill Church of the Advent, Ottawa's St. Barnabas Church, where he was Peoples' Warden, and Toronto's St. Thomas's Church, whose liturgical history he wrote in its jubilee volume. During his sabbaticals in Rome and frequent research trips there he became enamored with papal liturgical ceremonies and as a result he became a Roman Catholic. He had audiences and a personal meeting in St. Peter's with Pope Benedict XVI and with Cardinal Burke, Prefect of the Vatican's Signatura. Roger was devoted to the extraordinary Latin rite with its medieval precedents he had so often described in his liturgy seminars. His liturgical interests extended also to the ancient Mozarabic rite in Spain, on which he and his students wrote numerous articles and dissertations. During the jubilee celebration of the Reconquista of Toledo in 1985 he was invited to the inaugural celebration in the Cathedral of the newly revised Mozarabic Mass on 26 May, where he was presented to the Cardinal Archbishop, Marcelo González Martín, and Queen Sofía.
Roger also had lifelong interests in music and art. For over a decade he studied trumpet and then piano with Elizabeth Stiles (the mother of the noted World War II author and pilot, Bert Stiles), and he sang in church and city choirs and especially loved Baroque and pre-Baroque choral music. In high school he developed an interest in the art of the Penitentes of the southwestern U.S., some of which he was instrumental in bringing to the McMichael Collection in Ontario for a special exhibit. Later in his travels in Europe he became fascinated with the paintings of Vincent Van Gogh and visited and photographed virtually every location where Van Gogh lived and viewed nearly every one of his works not in private hands; and he naturally loved medieval art, especially manuscript illuminations and illustrations, and visited and photographed thousands of medieval works of art as well as publishing articles on the art of medieval manuscripts such as the Drogo Sacramentary, Utrecht Psalter, Exultet Rolls, and the Spanish Codices Aemelianense and Vigilanus.
In July of 2014 Roger was diagnosed with pancreatic cancer. He spent a happy August with family organizing and preparing for the worst but hoping for the best. By early September it was clear that the cancer was progressing and he wanted to try his one last hope of chemotherapy. Unfortunately, his body could not withstand the stress, and within days of his first treatment he was unable to get out of bed. After a beautiful bedside service with a priest and at 10:15 pm on the 24th, Roger peacefully took his last breath, holding the hand of his daughter Michele and surrounded by his wife and family. The funeral was held on 2 October at Saint Thomas's Anglican Church in Toronto, and Roger's remains, as he had requested, were scattered in places he had loved over the course of his life and academic career.
When asked what he considered the most satisfying aspects of his life, Roger said that beyond a loving family, friends and colleagues, discovering and publishing new texts in the thousands of medieval manuscripts he worked with over the years and handing his knowledge and experience on to his many students and colleagues were the most satisfying. Professor Roger Reynolds leaves a monumental record of scholarship in the history of canon law and liturgy, in manuscript studies and in the continuing work of students formed by his zeal and exacting discipline. He also leaves lasting personal memories for family and friends. It can be said of him what the author of Ecclesiastes (3:9–10) proclaimed, "What gain has the worker from his toil? I have seen the business that God has given to the sons of men to be busy with. He has made everything beautiful in its time."
JONATHAN BLACK, RICHARD GYUG, and CHARLES HILKEN
Pontifical Institute of Mediaeval Studies
Fordham University
St Mary's College of California
Bibliography
Please click here to see a bibliography of Roger E. Reynolds' works.
Source
This memorial notice and bibliography originally appeared in Mediaeval Studies 76 (2014): vii–xxviii. © Pontifical Institute of Mediaeval Studies.
To view the online memorial for Roger E. Reynolds at Turner & Porter, click here. To view the headstone, click here.