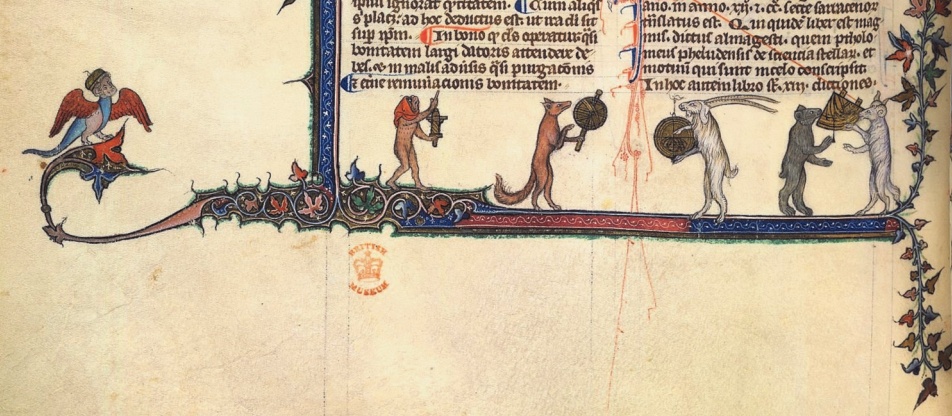 2014 Boyle Lecture. Alixe Bovey: "Is it a sin to be serious? Amusing Images in the Age of Thomas Aquinas."
Room 400 • Alumni Hall, 121 St Joseph Street
Alixe Bovey is currently Senior Lecturer in the School of History at the University of Kent.  She did her undergraduate work in medieval studies at the University of Victoria, British Columbia, and her graduate work at the Courtauld Institute of Art, University of London, from which she also received her doctorate. She began her career as a curator in the Department of Manuscripts at the British Library, working on a project that has evolved into the BL's 'Catalogue of Illuminated Manuscripts.' Much of her research is devoted to the relationship between word and image and to the place of the visual arts in public ritual and private devotion. She is the author of Jean de Carpentin's Book of Hours: The Genius of the Master of the Dresden Prayer Book (2011) and 'Tacuinum sanitatus': An Early Renaissance Guide to Health (2005) as well as editor of Medieval Art, Architecture and Archaeology at Canterbury (2013), among other books. She has also contributed to several catalogues, including, most recently, an entry on 'Articulate Giants' for The Universal Addressability of Dumb Things (2013), an exhibition curated by Turner Prize-winning artist Mark Leckey.
 
A reception will follow the lecture in the Laurence K. Shook Common Room at the Pontifical Institute of Mediaeval Studies, 59 Queen's Park Crescent East.
This event is free and open to the public and registration is not required. For further information, or to join the Friends, please visit www.pims.ca/amici/friends.html.
Download flyer [pdf]