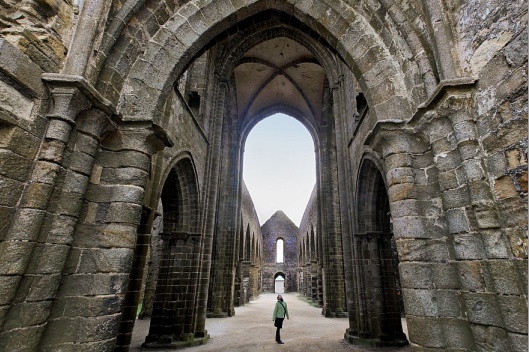 Ancient Abbeys of Brittany Project Colloquium: "Cistercians and Canons Regular in Medieval Brittany, Normandy, England and Wales
York University (Thursday) and University of Toronto, St George campus (Friday)
This project commenced in 2000. Since then work has been mainly focused on Begard, a Cistercian abbey in the Côtes-d'Armor, Brittany, and its possessions in England. This work resulted in the publication of an edition of its charters, including a historical introduction: L'abbaye cistercienne de Bégard, des origines à 1476: histoire et chartes. Turnhout: Brepols, ARTEM 16, 2012. 467 pages. ISBN: 978-2-503-54750-3.
As work proceeded on Bégard, plans were made and preliminary work done on other Breton abbeys. The next phase concerns the Premonstratensian abbey of Beauport. For this we have been joined by the Université de Bretagne Occidentale in Brest (UBO).
Those currently associated with and active in the project are:
Claude Evans (University of Toronto),
Cédric Jeanneau (UBO)
Harriet Sonne de Torrens (University of Toronto)
Paul Evans (York University)
Funding to date has been provided by the University of Toronto and UBO. UBO and Beauport Abbey sponsored a colloquium in Beauport and Brest, June13-14, 2013 (one day in each location).
In May 2014 we will hold a joint colloquium with the University of Toronto. The first day (Thursday May 1) will be held at York and the second day (Friday May 2) at the St George campus of the University of Toronto. The timing has been chosen so that participants living outside North America may combine this conference with the large annual International Congress on Medieval Studies in Kalamazoo May 8- 11, 2014.