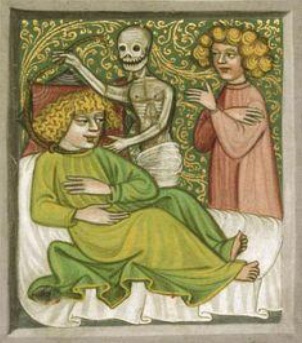 Concert: "Ad mortem festinamus: Reflections on Mortality"
Saint Thomas's Anglican Church, 383 Huron Street
War, pestilence, and the dangers of work and travel ensured that the consideration of death was rarely far from the medieval consciousness, and constituted a significant theme of medieval art, literature, and music. In a diverse programme of secular and sacred works, we present a broad range of attitudes and approaches to mortality – from the theological and elegiac to the philosophical, macabre, and even playful.
Tickets: $20 ($14 for students, seniors, unwaged)
Available from UofTTix Box Office: uofttix.ca; 416-978-8849
7 Hart House Circle (west side of Queen's Park Circle, northwest of Wellesley Street West & Queen's Park Crescent West; 4-minute walk south of the Museum subway station).

For subscriptions and group rates, contact SINE NOMINE directly: (sinenominetoronto@gmail.com; 416-638-9445)
Regular (x$54); Student /Senior (x$36)
To learn more about SINE NOMINE, click here.