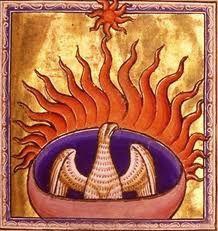 Concert: "Incendium amoris: Music from a Mystical Manuscript"
Saint Thomas's Anglican Church, 383 Huron Street
Music figured prominently in the mysticism of the English hermit Richard Rolle (d. 1349). It's not surprising, then, that a body of music is attached to one of the manuscripts of his Melos amoris. Although most of the composers are unknown, John Dunstaple, John Plummer and possibly Leonel Power are represented. Sine Nomine, in collaboration with Fordham University scholar Andrew Albin, explores the relationship between Rolle's text and the music which enriches it.
Single-ticket sales are handled by the University of Toronto box office, UofTtix. Tickets are $20 ($15 for students, seniors, unwaged). For subscriptions or reservations, please call 416 638 9445, or write to Sine Nomine.  For further information, visit the Sine Nomine website.
All concerts take place at Saint Thomas's Anglican Church, 383 Huron Street, Toronto. This attractive and historic building has warm, clear acoustics, ideal for listening to medieval music, and is conveniently located just south of Bloor Street West, between the St George and Spadina subway stations.