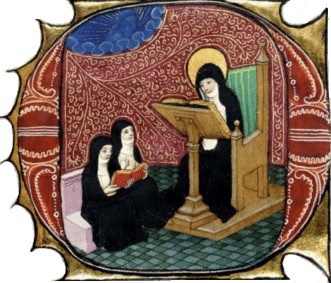 Concert: "Music for a Royal Convent: The Las Huelgas Codex"
Trinity College Chapel, 6 Hoskin Avenue
The Cistercian convent of Santa Maria la Real de Las Huelgas in Burgos was an important foundation with ties to the royal family of Castile. At one point in the thirteenth century the convent was reported to have a choir of a hundred nuns, and the manuscript named for the house preserves repertoire from this period -- 45 monophonic and 141 polyphonic compositions, many unique to this collection. Sine Nomine's women's ensemble returns for the final season concert with works from this remarkable monastic establishment.
Tickets can be ordered from HartHouse tickets (https://tickets.harthouse.ca/Online/default.asp; 416-978-8849). To contact Sine Nomine, please call 416 638 9445, or write to Sine Nomine.  For further information, visit the Sine Nomine website.
All Sine Nomine concerts this season take place at Trinity College Chapel, 6 Hoskin Avenue. The Chapel (1955), "a lovely example of perpendicular Gothic," is the work of Sir Giles Gilbert Scott (1880–1960), the architect of  Liverpool Cathedral, the Cambridge University Library, and the famous British red telephone boxes. It is a most evocative neo-medieval space, and aurally and visually perfect for the performance of medieval music. The Chapel is located on the St George Campus of the University of Toronto, between St George Street and Queen's Park, within easy walking distance of both Museum and St George stations (map: https://tinyurl.com/y9c8fb9f).