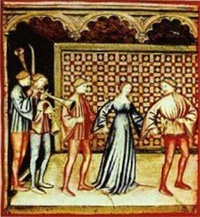 Concert: "Novellare, sonare e cantare: Tales from the Decameron"
Saint Thomas's Anglican Church, 383 Huron Street
Giovanni Boccaccio set his collection of novellas within a frame-story of young Florentines escaping the city to avoid the Black Death. In their secluded villa, they entertain one another with songs, dances, and a wide variety of stories: comic, tragic, heroic, and erotic, rich in the observation of human nature and acerbic social commentary. In our final season programme, we present a sampling of Boccaccio's narratives, paired with Florentine vocal and instrumental music by such composers as Jacopo da Bologna, Bartolino da Padova, Andrea da Firenze, and Francesco Landini.
Tickets: $20 ($14 for students, seniors, unwaged)
Available from UofTTix Box Office: uofttix.ca; 416-978-8849
7 Hart House Circle (west side of Queen's Park Circle, northwest of Wellesley Street West & Queen's Park Crescent West; 4-minute walk south of the Museum subway station).

For subscriptions and group rates, contact SINE NOMINE directly: (sinenominetoronto@gmail.com; 416-638-9445)
Regular (x$54); Student /Senior (x$36)
To learn more about SINE NOMINE, click here.