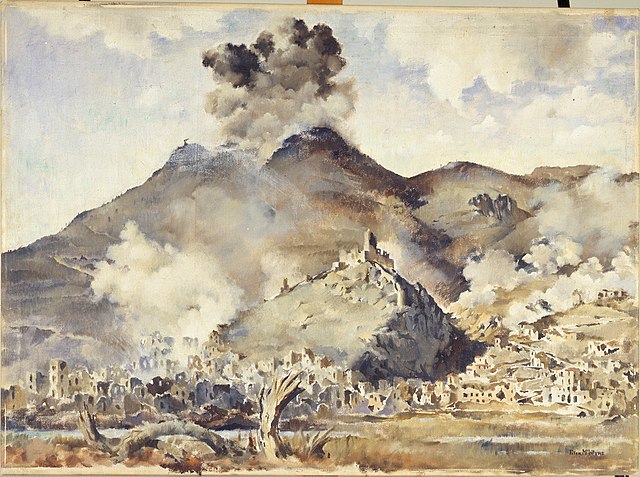 Lecture (cancelled): "The Destruction and Recovery of Monte Cassino, 529–1964"
Kriston Rennie (University of Queensland)
Seminar Room A, PIMS
The health, safety and well-being of our community members is very important to us. We regret to inform you that owing to the current situation with COVID-19, this event has been cancelled.
Painting by Peter McIntyre, a New Zealand soldier and official war artist who was an eyewitness to the 1944 bombing of Cassino
Kriston R. Rennie is a visiting PIMS Fellow and Associate Professor in Medieval History at the University of Queensland. His research interests include medieval canon law, papal legation, the Roman Church and the papacy, monastic exemption, and religious history more generally. His current research project examines how memory and heritage have come to be so closely linked in western culture, using the singular and pivotal case of the Benedictine abbey of Monte Cassino (est. 529) to analyze the historical process of remembering and its impact on modern representations of the past. Kriston was an LMS Fellow at PIMS in 2006–7; he has held various research fellowships in Germany, Belgium, the USA, Australia, and England. He is the author of Medieval Canon Law (2018), Freedom and Protection: Monastic Exemption in Medieval France, c.590–c.1100 (2018), The Collectio Burdegalensis: A Study and Register of an Eleventh-Century Canon Law Collection (2013), The Foundations of Medieval Papal Legation (2013), and Law and Practice in the Age of Reform: The Legatine Work of Hugh of Die (1073–1106) (2010), in addition to numerous articles and book reviews.