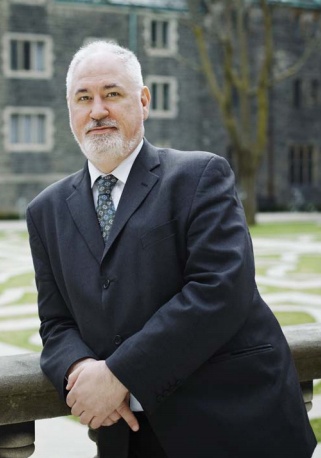 Lecture. Andy Orchard: "Medieval Outlaws, Exiles, and Stolen Stories."
George Ignatieff Theatre, Trinity College • 15 Devonshire Place
The Friends of the John W. Graham Library, Trinity College, are pleased to present the Thirteenth Annual Fredric Alden Warren Lecture:
Andy Orchard, Rawlinson and Bosworth Professor of Anglo-Saxon in the University of Oxford
Medieval Outlaws, Exiles, and Stolen Stories
Dr. Orchard received his bachelor's degree from Oxford and his Ph.D. from Cambridge. He taught Anglo-Saxon, Norse and Celtic at the University of Cambridge and eventually became Head of Department. In 1998 he was awarded the Pilkington Prize for excellence in teaching at Cambridge. He moved to Canada to be a professor of English and Medieval Studies at the University of Toronto, where he later became Director of the Centre for Medieval Studies. In 2007 Dr. Orchard became Trinity College's 14th Provost and Vice- Chancellor. He says that the Rawlinson and Bosworth Chair, established in 1795, the oldest and most prestigious in his field, is the only job that could pull him away from Trinity. Among his published works are the Cassell Dictionary of Norse Myth and Legend, 3rd ed. (2002); and A Critical Companion to 'Beowulf', rev. ed (2005); and The Elder Edda: A Book of Viking Lore (2011).
This event is free and open to the public, but an RSVP is required. To register, please click HERE. A reception in the Buttery will follow the talk.
For further information, contact the Friends of the Library at (416) 978-2653.
Download flyer [pdf]