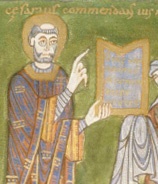 Lecture: "The Book: A Symbol of Monastic Ascent"
Adam S. Cohen (University of Toronto)
Room 100, Alumni Hall, 121 St Joseph Street
The Friends of the Library invite you to attend their 2016 Fall Lecture.
Among the activities of monastic reformers around the year 1000 was the production of illuminated manuscripts. Examining a cluster of Ottonian and Anglo-Saxon pictures reveals the central place of the book itself as the ideological site of monastic reform and spiritual ascent.
All are welcome!
A reception will follow the lecture in the Laurence K. Shook Common Room at the
Pontifical Institute of Mediaeval Studies, 59 Queen's Park Crescent East, Toronto.