Book Launch for Books and Bookmen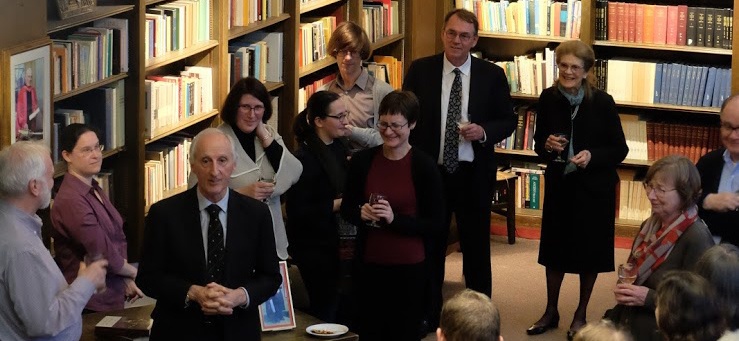 Publications
The Institute has launched a new Festschrift in honour of James Carley, Books and Bookmen in Early Modern Britain. This collection of eighteen essays explores how early modern uses of books have changed our reception of premodern writing.
The festivities began on 17 October with a lecture by James Willoughby (New College, Oxford), "The Hand of Ralph of Coggeshall: Chronicle-Making in the Reign of King John," arguing that a group of historiographical manuscripts containing Ralph's works include the author's autograph corrections.

Dr Willoughby, who co-edited the Festshrift with the late Jeremy Catto, presented it to Prof. Carley at a reception on 18 October. Willoughby noted the significance of the jacket cover, from a painting owned by the Worshipful Company of Barbers, of which Prof. Carley was elected master in 2016. The volume was completed shortly before Catto's death on 17 August 2018. To learn more about the volume and its contents, click here.
Many thanks to Andrew Dunning for photographs of the event.