The Institute's Diploma Programme in Manuscript Studies Reconvenes in 2023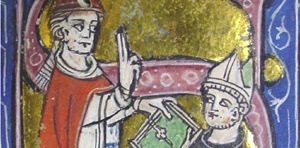 Courses
Applications are now open for the 2023 instalment of the Manuscript Studies Programme, which will convene in Rome from 5 June to 14 July 2023.
This year our programme returns to the Angelicum in Rome. Two courses will be offered: Special Subject MSST 1004: Papal documents and books from the time of Boniface VIII and John XXII, offered by Patrick Nold, Professor of History, University at Albany, State University of New York, and MSST 1003: Textual Editing, to be team-taught by Dr Greti Dinkova-Bruun, Librarian and Fellow of the Pontifical Institute and Prof. Martin Pickavé of the Department of Philosophy and the Centre for Medieval Studies at the University of Toronto.
The deadline for applications is 1 February 2023. For further details please visit the Diploma Programme webpage.