The 2017 Diploma Programme in Manuscript Studies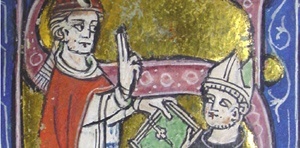 Courses
Applications are now open for the 2017 Manuscript Studies Programme, which will convene in Toronto from 5 June to 14 July 2017 to celebrate the 90th anniversary of our founder Étienne Gilson's arrival in Toronto.
The courses to be offered are MSST 1000: Latin Palaeography, taught by the Pontifical Institute's Leonard E. Boyle Professor of Manuscript Studies, M. Michèle Mulchahey, and MSST 1003: Textual Editing, offered by Dr Greti Dinkova-Bruun, Fellow and Librarian at the Pontifical Institute. This return to Toronto for 2017 also means that our foundational course in Latin Palaeography will now be taught regularly at the Pontifical Institute, amidst the unparalleled resources of the Palaeography Room built by Father Boyle.

The deadline for applications is 15 February 2017. For further details please visit the Manuscript Studies webpage.