The 2018 Diploma Programme in Manuscript Studies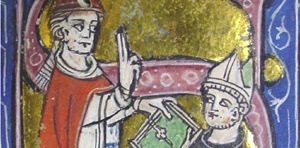 Courses
Applications are now open for the 2018 Manuscript Studies Programme, which will convene in Rome from 4 June to 13 July 2018.
This year marks the inauguration of our new partnership in Rome with the Pontificia Università di San Tommaso d'Aquino, also known as the 'Angelicum.' Two Special Subject courses will be offered: MSST 1004: Latin Palaeography of Gothic Manuscripts taught by the Pontifical Institute's Leonard E. Boyle Professor of Manuscript Studies, M. Michèle Mulchahey, together with Institute Librarian and Fellow, Greti Dinkova-Bruun, and MSST 1004: What's in a Text? Orality and Textuality in Medieval Scholastic Texts, offered by Timothy B. Noone, Ordinary Professor, School of Philosophy, The Catholic University of America.
The deadline for applications is 1 February 2018. For further details please visit the Manuscript Studies webpage.