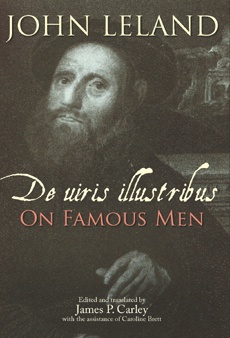 John Leland. De uiris illustribus / On Famous Men
With the assistance of Caroline Brett. ST 172; British Writers 1. 2010. clx, 868 pp., with 8 black-and-white plates. ISBN 978–0–88844–172–0 • $175.00
NOTE: Co-published by The Bodleian Library (ISBN 978–1–85124–367–9). Customers in Europe, including the United Kingdom, please order from Bodleian Library Publishing
Intended to be a comprehensive dictionary of British writers, this work lay incomplete at Leland's death.
View prelims and contents
Ordering
Customers in Europe, including the United Kingdom: please order this title from Bodleian Library Publishing.
Customers from other territories: detailed information about ordering, including methods of payment, is available on our ordering page.