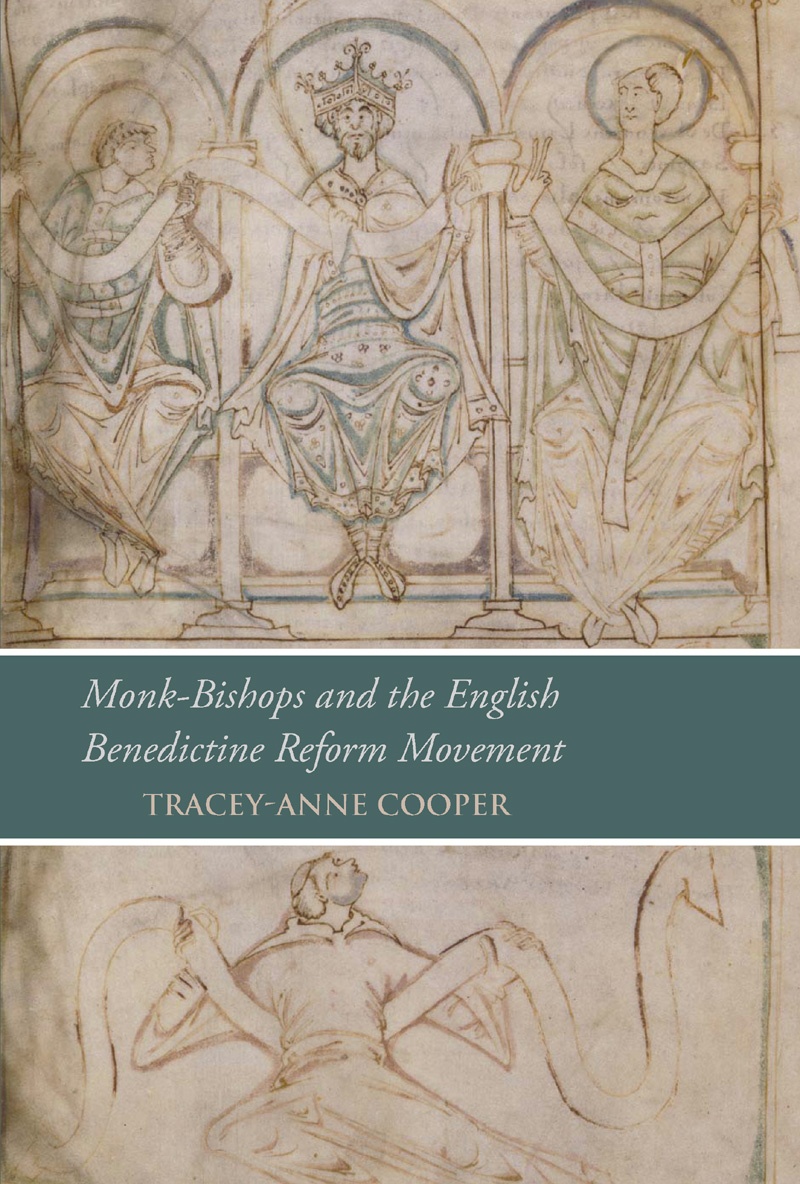 Monk-Bishops and the English Benedictine Reform Movement
Reading London, BL, Cotton Tiberius A. iii in Its Manuscript Context
Studies and Texts 193. xviii, 368 pp., including 5 colour plates. 2015. ISBN 978-0-88844-193-5 • Cloth • $95
London, BL, Cotton Tiberius A. iii is a compilation manuscript made at Christ Church, Canterbury, (arguably) in 1020–1023. Its ninety-four texts and two illustrations initially seem to present an incompatible miscellany: a monastic customary and texts concerning pastoral care; private prayers and public liturgical forms; scientific treatises and prognostics. This book argues that when viewed as a product of the third generation of the English Benedictine Reform, and an episcopate that was almost entirely monastic, however, the codex begins to make sense as a reflection of a reform movement that involved much more than the ejection of some clerks and the establishment of a few Benedictine monasteries and monastic sees.
A more thorough-going and longer-lasting attempt to create a Holy Society in England is witnessed in the sum of the reform's achievements – establishing a unified monastic episcopate, recovering and protecting lands and wealth, introducing liturgical innovations, expanding book production and decoration, focusing on teaching and learning, fostering saint cults and the cult of the Cross and developing effective pastoral care – which are all witnessed in the Tiberius manuscript. The synergy produced by compiling this manuscript demonstrates the breadth of this reform which coupled monasticism with both pastoral care and erudition. The manuscript unites different layers and ages of the reform, not as a reverent enshrinement, but as a living version of their own history; the third generation of reformers continually tweaked and recombined texts, and the contents of this manuscript represent a working body of reformist knowledge and practice.
Author
Tracey-Anne Cooper is Associate Professor of History at St John's University in Queens, New York. Her interests include the intellectual and religious history of Anglo-Saxon England, manuscript studies, and the representation of women in historical sources. A particular focus of her work has been the importance of manuscript context to the understanding of historical and literary sources. Her work has appeared in Writing Women Saints in Anglo-Saxon England (2013), Crying in the Middle Ages (2011), and The Sword of Judith (2011), as well as in journals such as Anglo-Norman Studies, Haskins Society Journal, and Mirator. She has received grants from the National Endowment for the Humanities, the Mellon Foundation, and the Kevin Brine Family Trust. She is currently editing a collection of essays on the representation of female aggression in the Middle Ages.
Endorsements
"Containing copies of the Regularis Concordia, the Rule of St Benedict, homilies, prognostics and much else besides, Cotton Tiberius A. iii is a vital witness to the ecclesiastical culture of late Anglo-Saxon England.  Tracey-Anne Cooper's study subjects this complicated book to the wide-ranging forensic analysis that it requires, teasing out the significance of its many items individually and collectively. The author thereby sheds a searching light on the belief and culture of three successive generations of churchmen, re-evaluating the nature and duration, not to mention the apparent contradictions, of the Anglo-Saxon Benedictine reform movement and scrutinizing the evolving priorities of its leading figures."
Richard Gameson, Durham University
Ordering
Detailed information about ordering, including sales territories and methods of payment, is available on our ordering page. PIMS books are also available on Amazon.