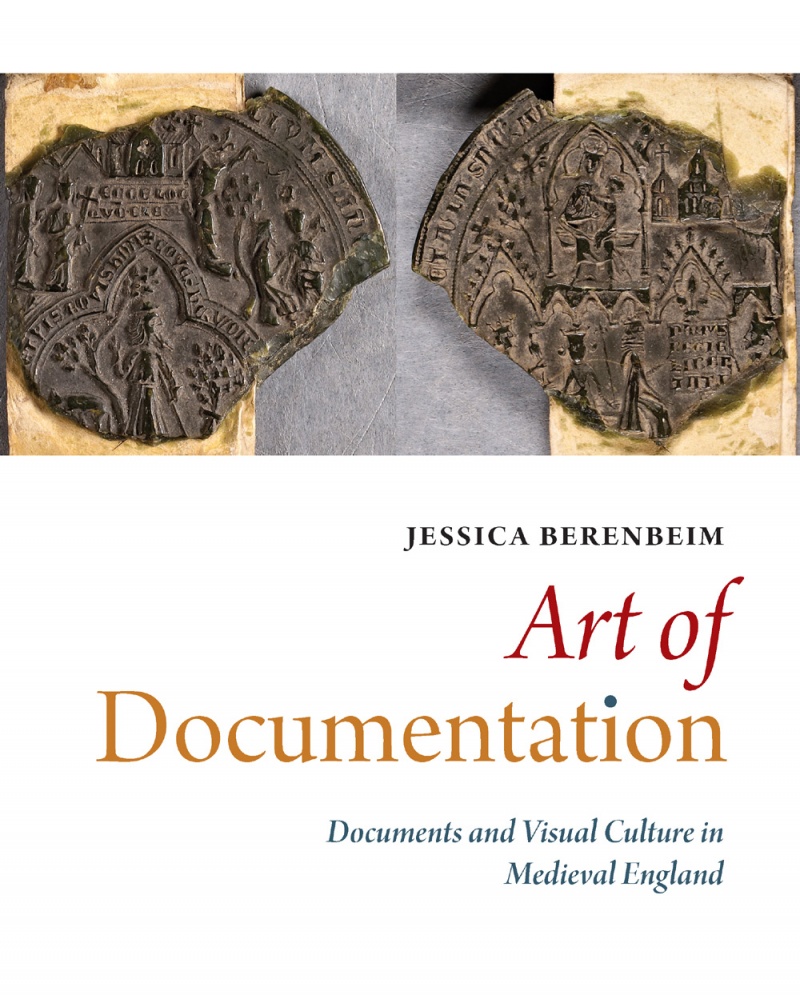 Art of Documentation: Documents and Visual Culture in Medieval England
Studies and Texts 194; Text Image Context: Studies in Medieval Manuscript Illumination 2. xviii, 242 pp. 147 colour and b&w images • 2015 • 8x10 in. • ISBN 978-0-88844-194-2 • Cloth • $100
The later Middle Ages was a time of profound connection between the spheres of bureaucracy and art. By discussing the two together, this book argues that art-historical methods offer an important contribution to diplomatics, and that works of art are important sources for the cultural reception of documentary practices. Documents are also an important model for representation, and an understanding of the paradigmatic role of the document suggests alternative dimensions to the interpretation of late-medieval art.
Ultimately, the ways documents appeared, functioned, and were perceived have implications for objects of all kinds. The discourses of documentation suggested an essential and consequential connection between objects and events: documents offered a powerful and widely disseminated model for how ephemeral actions and relationships could find enduring material form. With the broad diffusion of administrative records, this idea came to manifest itself in other forms of visual culture.
Medieval monks inventoried documents alongside the contents of their treasuries, set them on the altar, and wrote about fantastical charters of gold. Documents can still be a person's – or a nation's – most treasured possessions. As powerful objects of veneration and instruments of control, they connect medieval society and our own, testing modern perceptions of the Middle Ages as an entirely lost world.
Author
Jessica Berenbeim is a Fellow by Examination at Magdalen College, Oxford. Her publications focus on the intersecting histories of institutions, art and architecture, and administration, with a particular interest in bringing together the studies of visual culture and bureaucracy. She has held fellowships at the Paul Mellon Centre for Studies in British Art and the Courtauld Institute of Art, and was previously a Harvard Presidential Scholar and a Benefactors' Scholar at St John's College, Cambridge. She has also worked in the manuscripts departments of the British Library, the Fitzwilliam Museum, and Cambridge University Library.
Endorsements
"In this important and refreshing book, Jessica Berenbeim introduces documents to the study of later medieval English art. Although the two subjects are usually approached separately, and according to different methods, Berenbeim is able to demonstrate the stake each had in the other. Thus, the aestheticization of documents and their insertion into sumptuous objects like the Sherborne Missal is analysed in light of the authenticating and mnemonic potential of art, not only in manuscript illumination and seal design but ultimately sculpture and architecture as well. As a result, the boundaries between two object domains of major interest to medieval studies look more porous than previous scholarship has recognized. The book's argument is underpinned by judicious use of sources and an impressive command of history. Berenbeim builds on the work of Michael Clanchy and Brigitte Bedos-Rezak in evaluating medieval documents as "portentous objects" with a power that transcended their written, face value, but her understanding of the role of aesthetics in diplomatic culture is distinctive. Her work will benefit art historians, historians and archivists alike." 
Julian Luxford, University of St Andrews

"Jessica Berenbeim's Art of Documentation focuses on the context, function and art of legal documents, above all charters and cartularies with their accompanying seals, in regard to legal theory and perceived significance of these objects for their donors and recipients. This provides an original interpretation of a neglected aspect of late medieval visual culture in which secular and religious values interpenetrate. The introductory sections of the book examine the wider context of texts and art of charters, cartularies and seals in England. These are followed by detailed case studies of the great Missal of Sherborne abbey, a seal of Evesham abbey, and a charter of Croyland abbey, which argue for new interpretations of the legal and religious texts and imagery in these documents, and the ways in which they may have been understood by their owners. The convincing arguments for an "art of documentation" are presented with lucidity and clarity, and the study opens up a fascinating new field for further research." 
Nigel Morgan, University of Cambridge
Ordering
Detailed information about ordering, including sales territories and methods of payment, is available on our ordering page. PIMS books are also available on Amazon.