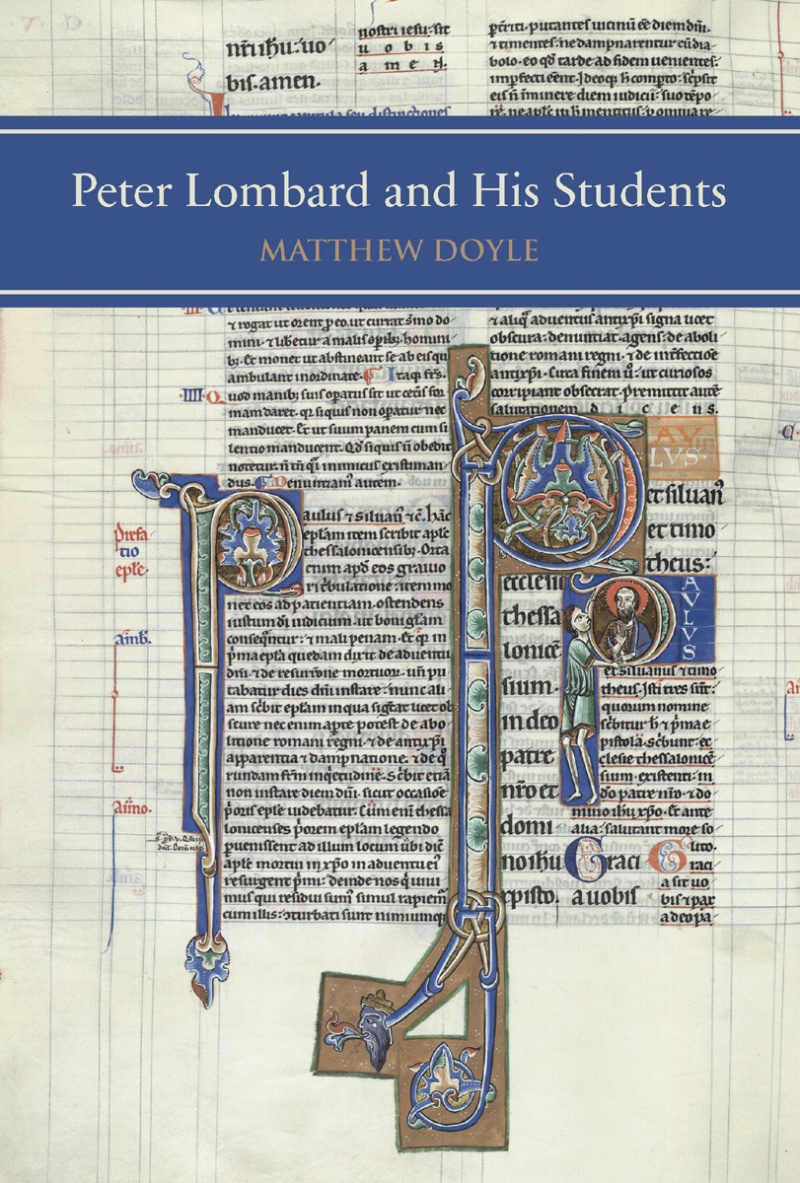 Peter Lombard and His Students
Studies and Texts 201; Mediaeval Law and Theology 8. xii, 302 pp. 2016. ISBN 978-0-88844-201-7 • Cloth • $90
Peter Lombard is best known for his groundbreaking theological work, the Sentences. But the exclusive focus on this work has tended to divert attention away from other aspects of his life and work. This book therefore takes a broadly biographical approach to Peter Lombard, examining him in relation to his environment and milieu.
The book is divided into two parts, corresponding to its title. The first details Peter's career. He came to Paris to study theology with the assistance of Bernard of Clairvaux and Uberto, bishop of Lucca, key players in the papal schism of the 1130s. After several years building a reputation in Paris, he gained entry to the canons of Notre Dame. This is seen against the background of wider changes in the church of Paris, while the canons themselves and their relationship with the cathedral school are outlined thoroughly. Part one finishes with Peter's greatest achievements, the composition of the Sentences and his rise in the church of Paris to archdeacon and finally bishop.
The second part, "The Master and His Students," opens with a comprehensive treatment of Peter's sermons, his most neglected and in some ways most revealing works. They were preached to an audience that included his students. The chapters on his students examine those who are known to have studied with him, as opposed to a loosely defined group of theologians who show his influence. This allows for a close focus on how a school operated in the twelfth century. While few of the students became full-time theologians, their training in Peter's school was of considerable value for their future careers, and it influenced their works. In the two decades following Peter's death, the students also increased awareness of their master's work and defended his reputation. This was particularly important during the controversy over his Christological teachings.
Author
Matthew Doyle was born and grew up in Dublin, Ireland. He holds a BA in History and Latin and an MLitt in Medieval History from University College Dublin. For his doctorate, he attended the Centre for Medieval Studies at the University of Toronto, graduating in 2006. He teaches at St Michael's College School in Toronto.
Endorsements
"For several centuries during the Middle Ages the teaching of theology in the West meant the delivery of commentaries upon the four books of Peter Lombard's Sentences. Yet, strangely, Peter himself and the course of his career have attracted little scholarly attention and are only thinly known. As Matthew Doyle shows so effectively in this book, there is no justification for this. Doyle brings alive the Paris of the mid-twelfth century, the cathedral and its chapter and school, its scholars, the royal court nearby, Peter's patrons, his duties in Paris, his preaching, his exercise of ever-increasing responsibilities to colleagues and pupils, and the ways in which they responded to the suspicions that sometimes arose over Peter's teaching. Doyle has successfully set Peter into his historical context, both institutionally and intellectually." — David Luscombe, University of Sheffield
Reviews
"The reason that I commend this book so highly is that it helps us to answer the question as to why the Sentences of Peter Lombard became the canonical text that it did. Given the work's tumultuous reception in the twelfth century, it was not a sure thing that it would become the textbook. Doyle's forensic work in this book makes the fertile suggestion that the success of the Sentences can be partially explained by recognising a) that Lombard must have been a savvy institutional actor, and, b) that he engendered great loyalty among his students who were responsible for disseminating his work after his death." — Clare Monagle, in The Medieval Review (2017)

"Peter Lombard and His Students is a fine contribution to the study of Peter Lombard and the fascinating group of students he formed during his career as master at Notre Dame. It belongs in every serious theological library." — Philipp W. Rosemann, in Revue d'histoire ecclésiastique (2017)

"Doyle succeeds in making the case that Peter Lombard is worth getting to know, and the second part of the book, in particular, does much to adjust and refine our view of twelfth-century theology. What it meant to be a student of Master Peter Lombard, and where that positioned one, socially and intellectually, is clear. Peter, though still rather elusive, emerges somewhat from the shadow of his greatest work." — P. Byrne, in The English Historical Review (2018)

"Since he is not tracking theological opinions, Doyle does not consider the contributions of the earliest Sentences commentators or Lombardian-school theologians to the establishment of his legacy, or, for that matter, the appeal of the organizational scheme of the Sentences or of positions of the Lombard that were espoused by scholastics not in that cadre. What Doyle does illuminate is how the personal and institutional connections binding the Lombardians treated in this book to their environments and to each other contributed in their own ways to that inheritance." — Marcia L. Colish, in Speculum (2018)
Ordering
Customers in North America please order through University of Toronto Press Distribution by phone (1-800-565-9523) or by email (utpbooks@utpress.utoronto.ca). If you would like to order through UTP Distribution using another method such as mail or fax, please click here for a full list of contact and ordering methods. PIMS books are also available on Amazon.
Customers outside North America please order through Brepols Publishers. PIMS books are available through the Brepols online catalogue.