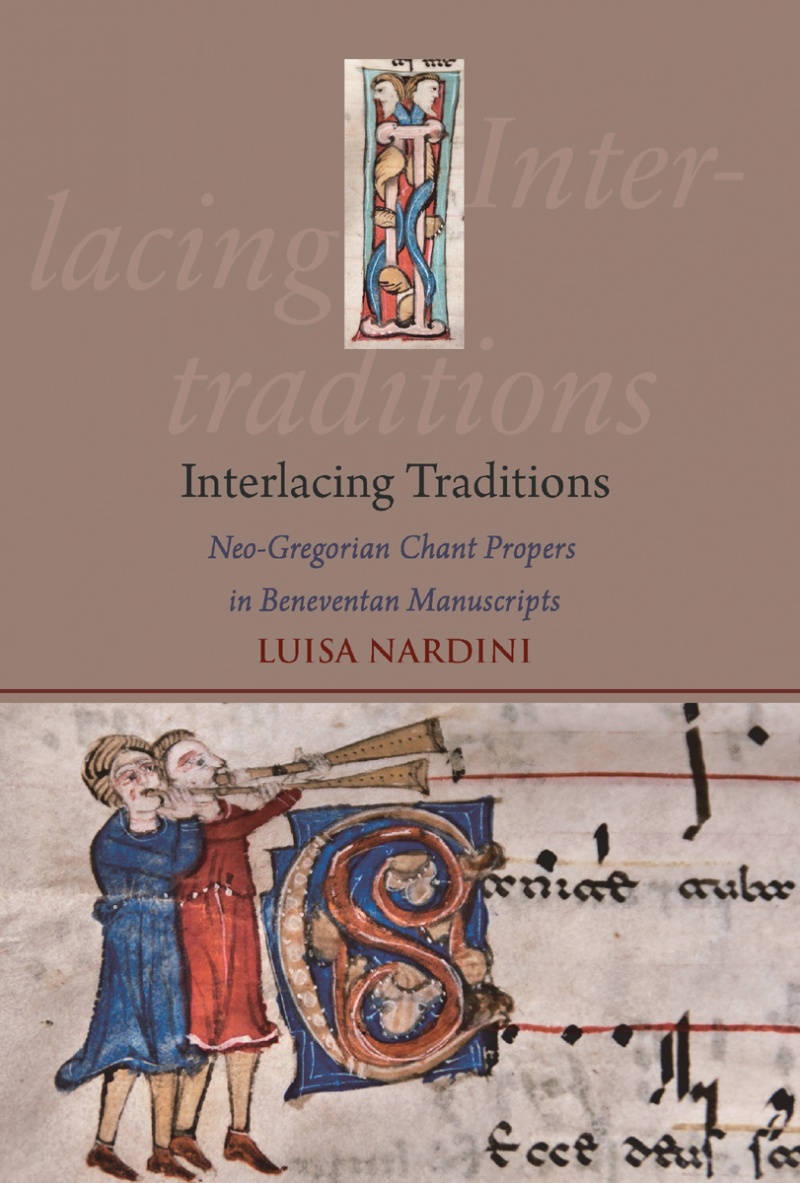 Interlacing Traditions: Neo-Gregorian Chant Propers in Beneventan Manuscripts
Studies and Texts 205; Monumenta Liturgica Beneventana 8. xvi, 444 pp. plus 16 plates. ISBN 978-0-88844-205-5 • Cloth • $100
This book is the first comprehensive study of the neo-Gregorian chants for the Proper of the Mass that circulated in the Beneventan region between the tenth and the thirteenth centuries. This extensive repertory demonstrates in extraordinary ways the struggles of local cantors to mediate between conformity to a standardized liturgy pursued by the Carolingians and the papacy, and a desire to maintain elements of the local musical culture.
Some neo-Gregorian chants were locally composed, while others were imported from other regions. Both imported and local chants reveal the stylistic preferences of local cantors and the interconnections between chant composition and saints' cults and thereby shed light on issues related to the oldest musical repertories of medieval Europe, such as the Byzantine, Roman, Ambrosian, and Beneventan chants. Ultimately, they lead us into a deeper understanding of the musical culture of medieval southern Italy, a territory that, at different times, had been the theatre of incursions and invasions by many peoples (Lombards, Byzantines, Muslims, Normans, Franks, and Romans) and that was also the home to several flourishing Jewish communities.
The book's rigorous historical analysis is supported by comprehensive tables, appendices, and indexes; it is also enriched by musical and textual transcriptions as well as images from relevant manuscripts.
Author
Luisa Nardini holds a doctorate in musicology from Università degli Studi "La Sapienza," Rome and a Diploma in Piano Performance from Conservatorio Statale di Musica Nicola Sala, Benevento, as well as a Licence in Mediaeval Studies from the Pontifical Institute of Mediaeval Studies, Toronto, and is currently an associate professor in the Sarah and Ernest Butler School of Music at The University of Texas at Austin. She has presented her work on Gregorian chant, medieval music theory, music and visual art, manuscript studies, and oral and written transmission of liturgical chant at scholarly forums throughout North America and Europe. Her essays and reviews have appeared in Acta Musicologica, Mediaeval Studies, Speculum, Plainsong and Medieval Music, Rivista Italiana di Musicologia, Nuova Rivista Musicale Italiana, and Cantus Planus, as well as several collections. An Associate Research Scholar at the Italian Academy for Advanced Studies in America at Columbia University and the recipient of research grants from the Universities of Naples, Rome, Italy, the University of California, Santa Barbara, and The University of Texas, Austin, she also serves as an honorary faculty member for the doctorate in musicology at the University of Rome "Tor Vergata" and is regularly invited as a lecturer at the Centro studi sull'Ars Nova Italiana del Trecento in Certaldo, Italy. In 2012 she was awarded the Gladiatore d'oro, the highest honorific prize of the Province of Benevento for "having contributed with her sophisticated, extraordinary, and passionate studies to the development of the scholarship in the field of medieval music and chant."
Endorsements
"Few areas of Europe have left as rich and complex tradition of music from the central middle ages as the south of Italy, the old Lombard duchy of Benevento. There a local chant tradition developed in the seventh and eight centuries vaguely related to northern Lombard chant but also influenced by Rome and Byzantium. The region adopted the Gregorian chant brought by the Carolingian invaders in the ninth century apparently quite willingly, but unlike other areas of Europe, it also preserved its own liturgy and chant side by side with it until the eleventh century, and the music that the Beneventan cantors created in the tenth and eleventh century to supplement the received Gregorian liturgy and chant is an extraordinary mixture of both traditions. Few scholars working today the traditions of Latin plainsong have the intimate knowledge of this mixed repertory and its musical, liturgical, and poetic traditions as does Luisa Nardini. This study is a masterful exposition of this repertory and at the same time throws new light on the interaction between Old Roman, Gregorian, and Beneventan chant, and the rise of the new styles of the eleventh century." — Alejandro Enrique Planchart, University of California, Santa Barbara


"Interlacing Traditions fills in the critical remaining piece in the fascinating mosaic of musical culture of early medieval southern Italy. Together with existing paleographical work and studies of local chant, tropes, and sequences, Luisa Nardini's important book shows how musicians and liturgists created and adapted music for use in an important cultural crossroads." — Thomas Forrest Kelly, Harvard University
Reviews
"Nardini's work is valuable in that it identifies important layers of composition and makes them accessible for consideration and analysis. The appendices in this publication contain invaluable editions of the texts of the neo-Gregorian melodies, and trace the diffusion of these melodies in comprehensive concordances of all the Beneventan and non-Beneventan manuscripts in which they appear. But the significance of this monograph lies in Nardini's multifaceted approach to history and analysis. Neo-Gregorian melodies are a witness to the vitality of musical composition in the Middle Ages. The study of neo-Gregorian music can teach us how south Italian cantors understood the received repertory, and the degree to which new compositions adhered to the modal, formal, melodic and generic features of the Gregorian repertory into which they were introduced. Nardini emphasizes the ways in which these melodies 'show the ability of local cantors to realize an aesthetic compromise between the formal structures of Gregorian genres and the stylistic elements of local and ultimately more archaic musical traditions' (p.3). Nardini places this music within a broader cultural and historical context. The chapters on the history and historiography of Beneventan manuscripts, and the overview of scriptoria and centres of production are essential reading for anyone with an interest in manuscript production and diffusion." — Matthew Peattie, in Early Music (2017)

"Interlacing Traditions is a major contribution to the scholarship on Western plainchant for a number of reasons. Luisa Nardini provides the first comprehensive examination of neo-Gregorian mass Propers in Beneventan manuscripts. She also shows repeatedly how central neo-Gregorian chant is to the study of medieval liturgy and its music, as well as to all scholars of the Middle Ages. Nardini's work is a model of rigorous scholarship, reflecting the author's command of a vast, diverse body of knowledge and intellectual approaches. She supports her arguments through clear, methodical explanations and marshals an enormous corpus of evidence into tables, well-chosen examples, and appendices. Although the author has made the book accessible to a wider readership by defining technical terms and offering introductory explanations in certain sections, this study is exceptionally valuable to chant scholars, in particular those studying Italian repertories and traditions. This book will surely become a well-worn resource, as much for its meticulous collection and organisation of data as for Nardini's astute musical and cultural analyses." — James Vincent Maiello, in Fontes Artis Musicae (2017)
Ordering
Customers in North America please order through University of Toronto Press Distribution by phone (1-800-565-9523) or by email (utpbooks@utpress.utoronto.ca). If you would like to order through UTP Distribution using another method such as mail or fax, please click here for a full list of contact and ordering methods. PIMS books are also available on Amazon.
Customers outside North America please order through Brepols Publishers. PIMS books are available through the Brepols online catalogue.