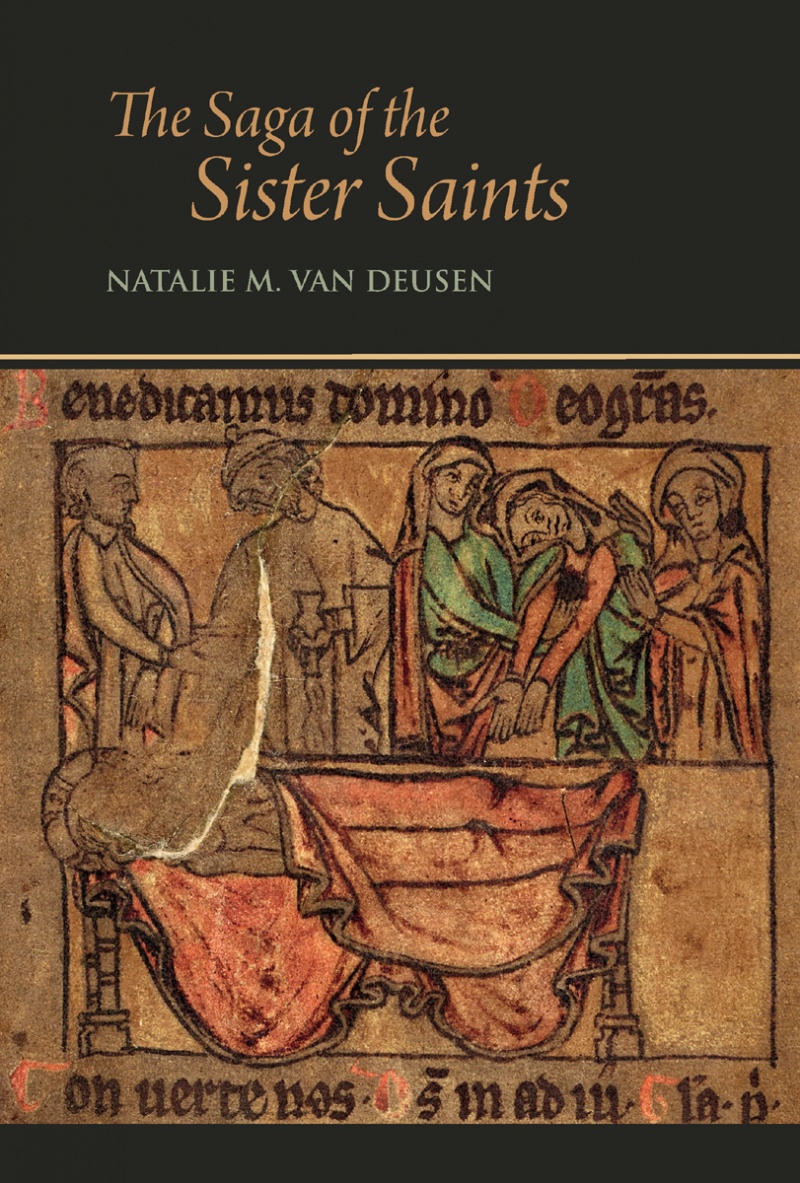 The Saga of the Sister Saints: The Legend of Martha and Mary Magdalen in Old Norse-Icelandic Translation
Studies and Texts 214 • 2019 • xiv + 222 pp. • ISBN 978-0-88844-214-7 • Cloth • $80
This book examines the cults and legends of Martha and Mary Magdalen in medieval Scandinavia, especially Iceland. While a number of parallels may be drawn between Iceland and mainland Scandinavia in terms of liturgical and artistic representations of Martha and Mary Magdalen, the Old Norse-Icelandic literary tradition stands apart from its Scandinavian counterparts in the cultural significance and relevance it gives to each of the "sister saints" in medieval Iceland, where the composite Mǫrtu saga ok Maríu Magðalenu was compiled in the mid-fourteenth century. The book concludes with a normalized edition of the only complete redaction of Mǫrtu saga ok Maríu Magðalenu, followed by its first English translation.
The historical study that opens the volume treats the manuscripts and Latin sources of the saga, lending insight into authorship and provenance; it also details representations of Martha and Mary Magdalen in liturgical materials, art, and literature from medieval Scandinavia, before turning to the saints' cults and legends in medieval Iceland.
All the available evidence for the "sister saints" in Iceland from its Christianization in 1000 until around the time of the Reformation in 1550 is analyzed in detail, especially evidence from church inventories (máldagar) but also from literary works in prose and verse, as well as from charters and letters. Special attention is given to issues of style and content in the saga and, in particular, to views on women preachers in medieval Iceland.
Author
Natalie M. Van Deusen is Associate Professor and Henry Cabot and Linnea Lodge Scandinavian Professor at the University of Alberta, where she teaches a variety of courses on Scandinavian language, literature, and culture. Her research interests include Old Norse and Early Modern Icelandic paleography and philology, manuscript culture, hagiography and religious literature, and gender studies. She is co-author with Kirsten Wolf of The Saints in Old Norse and Early Modern Icelandic Poetry (2017), and has published a number of articles and book chapters, primarily on the lives of saints in medieval and early modern Icelandic poetry and prose.
Endorsements
"In this remarkable contribution to the scholarship on Old Norse hagiography and the cult of saints in Iceland and mainland Scandinavian, Natalie Van Deusen provides a fresh edition in normalized Old Norse orthography of the Saga of the Sister Saints, Marta and Mary Magdalen, along with a very readable translation that will make this rather neglected text accessible to a wider audience. The meticulous and wide-ranging introduction to the saga discusses the sources and transmission of the text as well as its possible authorship and the tantalizing evidence for women preachers in medieval Iceland." — Jonas Wellendorf, University of California, Berkeley

"In The Saga of the Sister Saints, Natalie Van Deusen offers an in-depth analysis of the Old Norse-Icelandic Mǫrtu saga ok Mariu Magðalenu, along with a normalized edition of the text and the first published translation of the saga into English. Van Deusen's prolegomena include a detailed account of the cult of Martha and Mary Magdalen in the medieval North as well as a fresh examination of the saga's manuscript tradition and Latin sources. Access to this important vernacular text has, until now, been very limited. This volume will provide a foundation for future work on the saga, and will be a useful resource for scholars in other fields whose research might lead them to this fascinating text." — Stephen Pelle, University of Toronto
Ordering
Customers in North America please order through University of Toronto Press Distribution by phone (1-800-565-9523) or by email (utpbooks@utpress.utoronto.ca). If you would like to order through UTP Distribution using another method such as mail or fax, please click here for a full list of contact and ordering methods. PIMS books are also available on Amazon.
Customers outside North America please order through Brepols Publishers. PIMS books are available through the Brepols online catalogue.