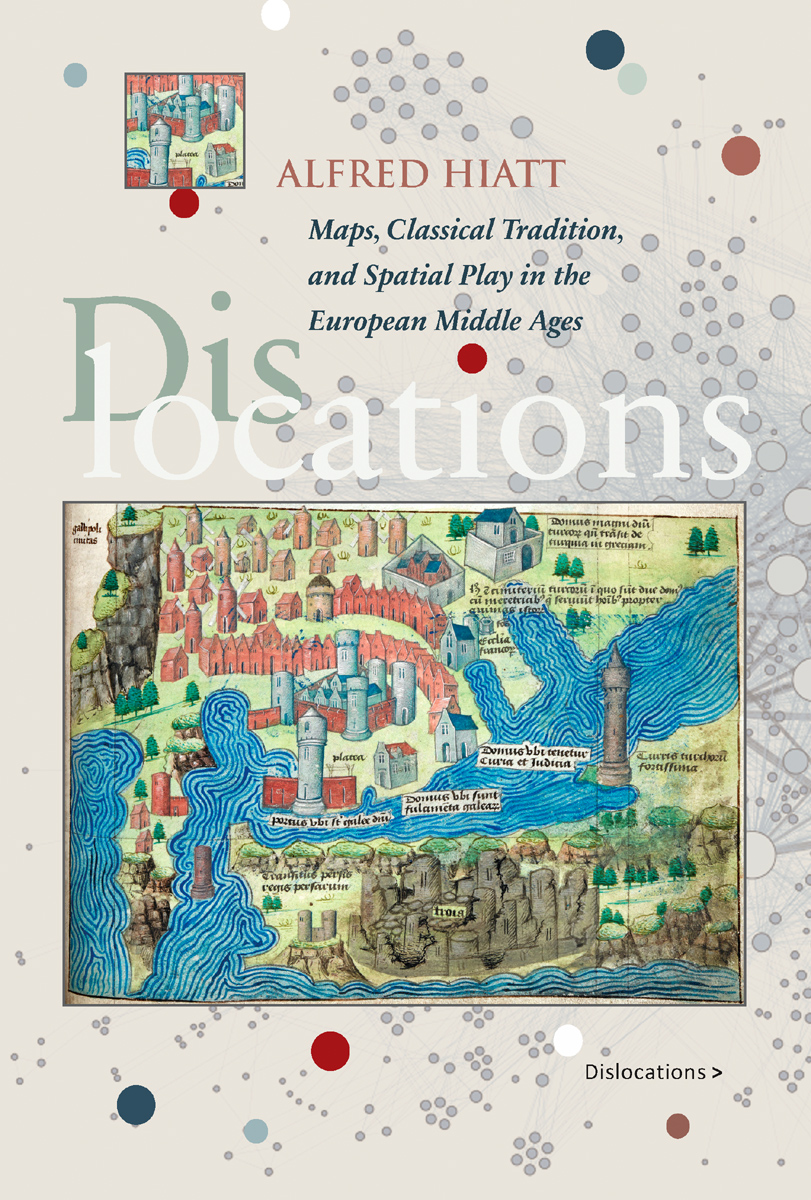 Dislocations: Maps, Classical Tradition, and Spatial Play in the European Middle Ages
Studies and Texts 218 • 2020 • xii, 348 pp. plus 32 pages of colour plates • ISBN 978-0-88844-218-5 • Cloth • $95
In Europe, during the Middle Ages, classical Greek and Roman geography continued to provide the fundamental structure for knowing the world's places and peoples. From encyclopedic compendia such as the Natural History of Pliny the Elder and its redaction in Julius Solinus's Polyhistor to the works of canonical Roman poets such as Virgil, Ovid, and Lucan, the geographical content of antique texts invited study and explication. Yet medieval authors well knew that classical spatial order, itself full of lacunae, only infrequently corresponded to their own reality. Dislocations: Maps, Classical Tradition, and Spatial Play in the European Middle Ages considers the ways in which medieval and, later, humanist geography absorbed and reinvented classical spatial models in order to address key questions of historical change, migration, and emerging national, regional, and linguistic identities.
Drawing on a wide range of literary texts, maps, and geographical descriptions – and utilising the ancient but now largely discarded scholarly genre of the dialogue – Dislocations argues that medieval spatial representation was complex and richly textured, whether in the form of a careful gloss in a manuscript of Lucan's Civil War, or as the exuberant sexualized allegories of the fourteenth-century papal notary Opicinus de Canistris. The book also explores a further kind of dislocation: the surprising connections between medieval geographical thought and twentieth- and twenty-first-century visual arts, including Dadaism and the remarkable Mappamundi Suite of the Gujarati artist Gulammohammed Sheikh. While past spatial orders may be relegated to obscurity, they just as often linger – in archives, memories, and ruins – to be retrieved and reanimated in revealing ways.
Author
Alfred Hiatt is Professor of Medieval Studies in the Department of English at Queen Mary University of London. His research interests include maps and geographical writing, the reception of the classical tradition in the Middle Ages, and forgery and the reception of forgeries. He is the author of The Making of Medieval Forgeries: False Documents in Fifteenth-Century England (2004) and Terra Incognita: Mapping the Antipodes before 1600 (2008).
Endorsements
"This is a tour de force, a project that cannot help but wear its intense intellectual passions on its sleeve. Reading Alfred Hiatt's Dislocations proves a surprising and continually generative experience. His readings of geographical texts both canonic and obscure are deeply conversant with classical and medieval tradition. But for all the old-world brilliance of its scholar­ship in the history of cartography (and much else), the book produces an unfettered, young-Turk stir. In a field that is too often plagued by dourness, one cannot help but be in favour of risk-taking that combines learning with imagination. Dislocations displays a great deal of this welcome commodity, all the while being historically rigorous, critically formidable, and pleasurable to read." — Daniel Birkholz, University of Texas at Austin

"Dislocations is an ambitious study with a provocative thesis: that disorder, gaps, repetitions, and mistranslations are a constitutive element of geography. Rooted in classical antiquity and medieval Europe, but ranging far beyond these boundaries both temporally and geographically, Alfred Hiatt demonstrates the ways in which medieval cartographers' reception, reuse, and reformulation of ancient geographic knowledge was creative and ongoing, and never passive or imitative. Deeply inter­disciplinary, Hiatt's book traces these dislocations through a wide array of texts and images, demonstrating their roots in systems of political, social, and linguistic change. This book should be widely read, and is bound to spur further research in the field." — Karl Whittington, The Ohio State University
Ordering
Customers in North America please order through University of Toronto Press Distribution by phone (1-800-565-9523) or by email (utpbooks@utpress.utoronto.ca). If you would like to order through UTP Distribution using another method such as mail or fax, please click here for a full list of contact and ordering methods. PIMS books are also available on Amazon.
Customers outside North America please order through Brepols Publishers. PIMS books are available through the Brepols online catalogue.