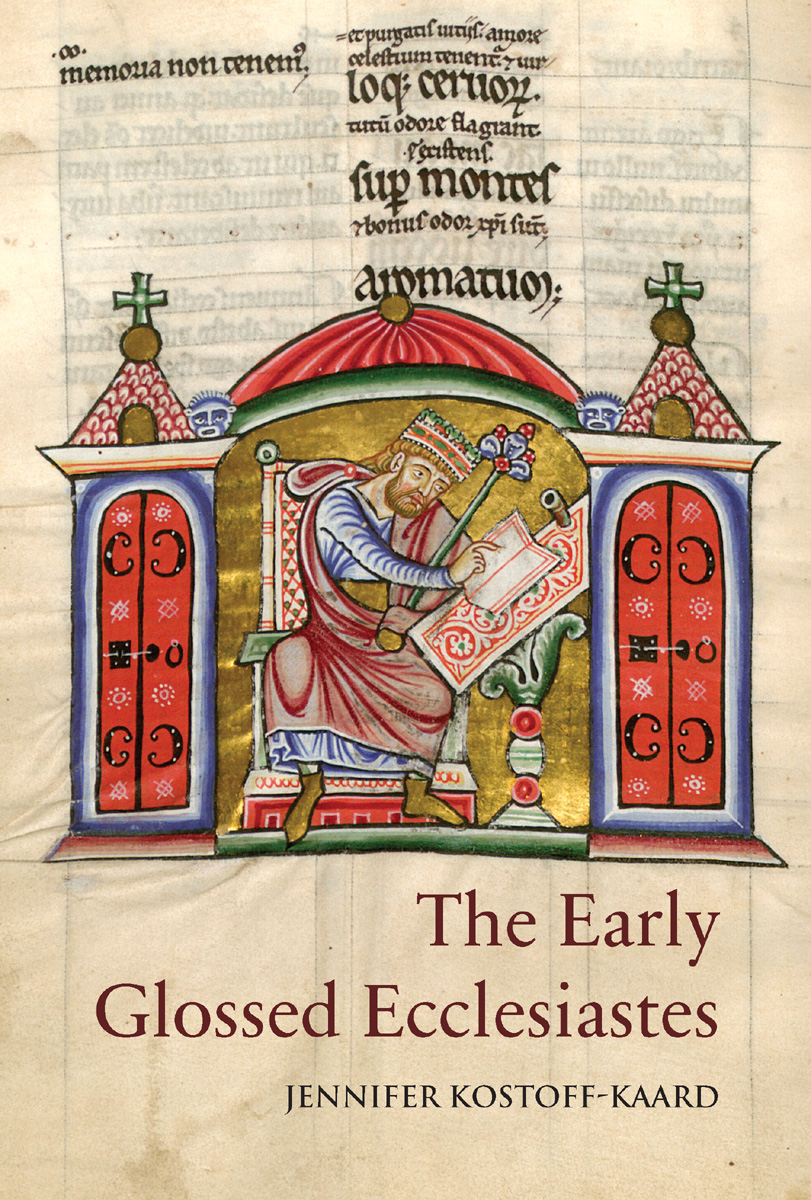 The Early Glossed Ecclesiastes: A Critical Edition with Introduction
Studies and Texts 224; The Glossed Bible: Editions and Studies of the Medieval Sacra pagina 1 • x, 324 pp. • ISBN 978-0-88844-224-6 • Cloth • $95
The Glossa ordinaria was the main exegetical instrument by which the Bible was taught and studied during the Middle Ages, a resource whose influence began in the early twelfth century and remained perceptible in theological writing beyond the sixteenth century. For much of its modern history, the sheer scale, range, and ubiquity of the Glossa have deterred scholars from sustained study of its origins, development, and reception. However, the recent growth of studies devoted to the Laon-Paris teaching milieu in which the Glossa was central has altered the scholarly landscape. This volume, like the series of which it is part, should contribute to this development by providing the first textual and historical analysis of the earliest written version of the glossed Ecclesiastes.
The edition and the study that prefaces it offer a glimpse into how medieval theologians grappled with this most abstruse and provocative biblical text in a new format that was gaining increasing currency. Together they reveal the ways in which the Book of Ecclesiastes became the fixed point at which fundamental figures and movements of patristic, medieval, and early modern teaching and learning converged.
Excerpts
The introduction
An excerpt from the edition
Author
Jennifer Lynn Kostoff-Kaard completed her doctorate at the Centre for Medieval Studies at the University of Toronto. She is currently working on an edition of Henry of Langenstein's Commentary on Genesis as part of a research project in the Institute for Historical Theology at the University of Vienna.
Endorsements
"The Glossa ordinaria on Ecclesiastes is an important exegetical landmark of the twelfth century. It exists in two versions, with the earlier version differing significantly from the one published by Adolph Rusch, which appeared in 1480/81 and was reprinted in 1992 and is now usually cited by scholars. This makes Jennifer Kostoff-Kaard's edition of the earlier version a welcome contribution to the history of twelfth-century exegesis; it is a delight to have this text now available in an edition that is a model of its kind. While the introduction covers the history and place of the text, and compares the two versions of the gloss, the detailed manuscript descriptions and ratio edendi likewise leave nothing to be desired." — Frans van Liere, Calvin University
Ordering
Customers in North America please order through University of Toronto Press Distribution by phone (1-800-565-9523) or by email (utpbooks@utpress.utoronto.ca). If you would like to order through UTP Distribution using another method such as mail or fax, please click here for a full list of contact and ordering methods. PIMS books are also available on Amazon.
Customers outside North America please order through Brepols Publishers. PIMS books are available through the Brepols online catalogue.