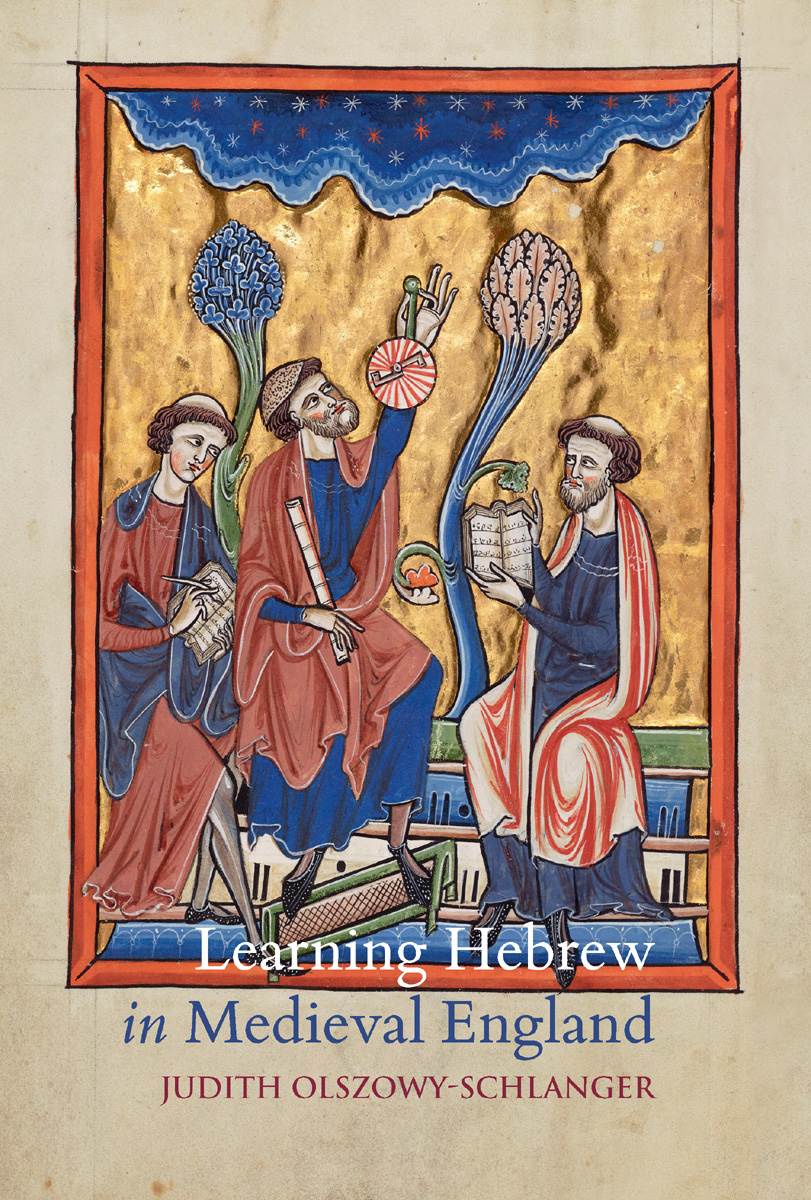 Learning Hebrew in Medieval England: Christian Scholars and the Longleat House Grammar
Studies and Texts 230; Judaism in the Medieval and Early Modern World 2 • x, 194 pp. plus 24 colour plates • ISBN 978-0-88844-230-7 • Cloth • $95
The fountainhead of theology, a "doorway to wisdom," or a philological riddle: there were many reasons to learn Hebrew for inquisitive Christian minds in the Middle Ages. Although preoccupation with the meanings of the names of the Hebrew letters and their presumed inherent virtues can be traced back to the early Church Fathers, the rediscovery of classical sources and Aristotelian philosophy and the engagement with Graeco-Arabic sciences that marked the renaissance of the twelfth century also brought about an acute awareness of the need for a philological understanding of the Hebrew language.
In England in particular, various factors combined together to encourage and facilitate the study of Hebrew texts, not only among well-known writers such as Andrew of St Victor, Herbert of Bosham, and Alexander Neckam in the twelfth century, and Robert Grosseteste and Roger Bacon in the thirteenth, but also among English scholars whose names have not been preserved. They nevertheless produced bilingual Hebrew-Latin manuscripts in collaboration with Jewish scribes, along with manuals, textbooks, and reference aids to facilitate access to the sources.
Learning Hebrew in Medieval England presents an edition and analysis of one such learning tool: a thirteenth-century grammar written in Hebrew, Latin, and Anglo-Norman French (the vernacular language of the Jews of England) in a complex combination of Hebrew and Latin alphabets. It can be traced to the Benedictine Ramsey Abbey in East Anglia and is preserved in a unique copy in a volume that is today part of the private collection of the Marquess of Bath at Longleat House in Wiltshire.
Author
Judith Olszowy-Schlanger is President of the Oxford Centre for Hebrew and Jewish Studies and a Fellow of Corpus Christi College and Professor of Hebrew Palaeography at the École Pratique des Hautes Études, Paris-Sciences-Lettres. She is the author of numerous publications, including Les manuscrits hébreux dans l'Angleterre médiévale: étude historique et paléographique (2003) and Hebrew and Hebrew-Latin Documents from Medieval England, in two volumes (2015). With Anne Grondeux et al., she is the editor of Dictionnaire hébreu-latin-français de la Bible hébraïque de l'abbaye de Ramsey (XIIIe s.) (2008); she has also co-edited several collections, among them Books within Books: New Discoveries in Old Book Bindings (2013), with Andreas Lehnardt, and A Universal Art: Hebrew Grammar across Disciplines and Faiths (2014), with Nadia Vidro and Irene E. Zwiep.
Endorsement
"Judith Olszowy-Schlanger's book is of the greatest importance to the history of Hebrew learning in the Middle Ages. The Hebrew grammar that is its focus survives in a unique copy now at Longleat House, Wiltshire and can be traced to the Benedictine Abbey of Ramsey, East Anglia, in the thirteenth century. Learning Hebrew in Medieval England presents an edition of the text (together with an English translation of the essay on Hebrew accents and vowels), a full description of the manuscript, and an extended historical introduction. The author enjoys a worldwide reputation as a formidable scholar, well-versed in the languages used in the grammar (classical and medieval Hebrew, Latin, Anglo-Norman French) and in firm command of the skills (codicology, paleography, and diplomatics) required to interpret the manuscript's complexities. The result is a magnificent achievement that makes a remarkable work accessible to a wider scholarly audience." — Aharon Maman, Hebrew University of Jerusalem
Ordering
Customers in North America please order through University of Toronto Press Distribution by phone (1-800-565-9523) or by email (utpbooks@utpress.utoronto.ca). If you would like to order through UTP Distribution using another method such as mail or fax, please click here for a full list of contact and ordering methods. PIMS books are also available on Amazon.
Customers outside North America please order through Brepols Publishers. PIMS books are available through the Brepols online catalogue.