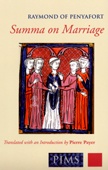 Translated by Pierre Payer. MST 41; St Michael's College Mediaeval Translations. 2005. viii, 98 pp. ISBN 978–0–88844–291–8 • $21.95 
A summary of learned reflection on the law of marriage, composed by Raymond of Penyafort (1175–1275) to aid his Dominican brothers in hearing confessions, where numerous problems touching on marriage would have been encountered.
Ordering
Customers in North America please order through University of Toronto Press Distribution. Please contact UTP Distribution directly by email, phone, or mail (PIMS books are not available through the UTP online catalogue). PIMS books are also available on Amazon.
Customers outside North America please order through Brepols Publishers. PIMS books are available through the Brepols online catalogue.
To view our desk copy policy, click here.