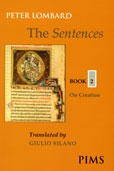 The Sentences – Book 2: On Creation
Translated by Giulio Silano. MST 43; St Michael's College Mediaeval Translations. 2008. xlvi, 236 pp. ISBN 978–0–88844–293–2 • $39.50
This volume makes available for the first time in English full translations of Book 2 of the Sentences. It consists of forty-four Distinctions and contains an introduction to Book 2, a list of the major chapter headings, and a bibliography.
Ordering
Customers in North America please order through University of Toronto Press Distribution by phone (1-800-565-9523) or by email (utpbooks@utpress.utoronto.ca). If you would like to order through UTP Distribution using another method such as mail or fax, please click here for a full list of contact and ordering methods. PIMS books are also available on Amazon.
Customers outside North America please order through Brepols Publishers. PIMS books are available through the Brepols online catalogue.
To view our desk copy policy, click here.