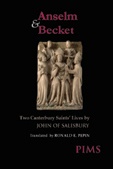 Anselm & Becket: Two Canterbury Saints' Lives
Translated with an introduction by Ronald E. Pepin. MST 46. 2009. viii, 108 pp. ISBN 978–0–88844–298–7 • $20.95
Although neither of these biographies has secured the universal acclaim that modern scholars have bestowed on John of Salisbury's other writings, both certainly warrant scholarly attention.
View prelims and contents
Ordering
Customers in North America please order through University of Toronto Press Distribution. Please contact UTP Distribution directly by email, phone, or mail (PIMS books are not available through the UTP online catalogue). PIMS books are also available on Amazon.
Customers outside North America please order through Brepols Publishers. PIMS books are available through the Brepols online catalogue.
To view our desk copy policy, click here.