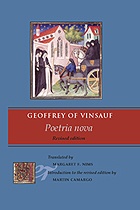 Revised edition. Translated by Margaret F. Nims. Introduction to the revised edition by Martin Camargo. MST 49. 2010. vi, 96 pp. ISBN 978–0–88844–299–4 • $16.95 
The Poetria nova, written by the Englishman Geoffrey of Vinsauf shortly after 1200, was the most influential medieval treatise on rhetorical poetics.
View prelims and contents 
Ordering
Customers in North America please order through University of Toronto Press Distribution. Please contact UTP Distribution directly by email, phone, or mail (PIMS books are not available through the UTP online catalogue). PIMS books are also available on Amazon.
Customers outside North America please order through Brepols Publishers. PIMS books are available through the Brepols online catalogue.
To view our desk copy policy, click here.