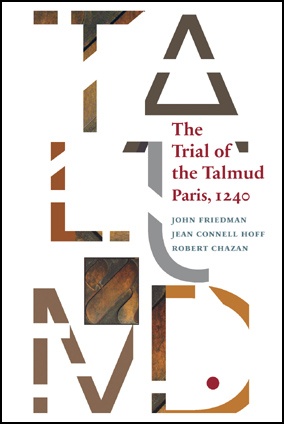 The Trial of the Talmud: Paris, 1240
Hebrew texts translated by John Friedman; Latin texts translated by Jean Connell Hoff; historical essay by Robert Chazan. MST 53. 2012. x, 182 pp. ISBN 978–0–88844–303–8 • $21.95
In 1240, a trial was convened in Paris to investigate allegations that the Talmud was harmful. This unprecedented event is reflected in a variety of sources, both Christian and Jewish, here brought together in English translation for the first time.
View prelims and contents
Ordering
Customers in North America please order through University of Toronto Press Distribution. Please contact UTP Distribution directly by email, phone, or mail (PIMS books are not available through the UTP online catalogue). PIMS books are also available on Amazon.
Customers outside North America please order through Brepols Publishers. PIMS books are available through the Brepols online catalogue.
To view our desk copy policy, click here.