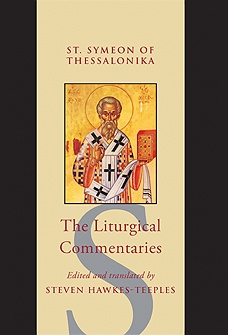 Symeon of Thessalonika. The Liturgical Commentaries
ST 168. 2011. viii, 302 pp.
New in Paperback (2015): ISBN 978-0-88844-423-3 • $42.00
Casebound: ISBN 978-0-88844-168-3 • $90.00
This volume contains an edition and facing English translation of Explanation of the Divine Temple and "On the Sacred Liturgy," the two commentaries on the pontifical (hierarchal) Byzantine Divine Liturgy by St. Symeon of Thessalonika (†1429).
This edition is based on MS Zagora 23, which contains extensive corrections and additions apparently added to the text by the author himself. The book opens with a historical and theological foreword on liturgical commentaries and  mystagogy by Archimandrite Robert Taft. The introduction surveys the life and career of St. Symeon, analyzes the structure and theology of the commentaries, and concludes with an account of technical and editorial questions. The index includes references to names, places, and topics in Symeon's text and in the introduction and traces key terms in the commentaries in both Greek and English.
Author
Born in 1953, Steven Hawkes-Teeples grew up in San Antonio, Texas. He was baptized into the Catholic Church during his first year at San Antonio College. He completed a BA and an MA in French literature at the University of Texas at Austin. He entered the Society of Jesus in 1982 and was ordained a priest in the Byzantine-Ruthenian Church in 1993. Studying under Archimandrite Robert Taft, he completed a doctorate in Eastern Christian liturgy in 1998 with a dissertation on the liturgy in the commentaries of St. Symeon of Thessalonika. From 1997 to 2001, he was director of the Diaconal Formation Program of the Byzantine-Ruthenian Church in Pittsburgh, Pennsylvania. He has also taught at Canisius College in Buffalo, New York and at Regis College in Toronto. Since 2001 he has been teaching liturgy at the Pontifical Oriental Institute in Rome. 
Endorsements
"With this book Fr. Steven Hawkes-Teeples, SJ, Professor of Byzantine Liturgy at the Pontifical Oriental Institute in Rome, fills a gaping hole in the scholarly literature associated with the overlapping academic fields of Byzantine Studies, Medieval Studies, Orthodox Theology, and Oriental Liturgiology. The present volume represents the first translation into any modern western academic language of both commentaries of St. Symeon of Thessalonika (d. 1429) on the Byzantine Divine Liturgy or Eucharist. Such neglect is surprising, for St. Symeon is an author of the first importance. As the last and most prolific Orthodox liturgical  theologian of the Byzantine era, who lived at the point when the Byzantine Empire was moving toward its demise before the Ottoman onslaught, he crowns and closes his era." — Robert F. Taft
Ordering
Customers in North America please order through University of Toronto Press Distribution by phone (1-800-565-9523) or by email (utpbooks@utpress.utoronto.ca). If you would like to order through UTP Distribution using another method such as mail or fax, please click here for a full list of contact and ordering methods. PIMS books are also available on Amazon.
Customers outside North America please order through Brepols Publishers. PIMS books are available through the Brepols online catalogue.
To view our desk copy policy, click here.