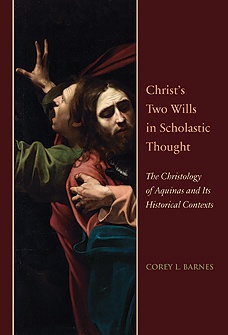 Christ's Two Wills in Scholastic Thought: The Christology of Aquinas and Its Historical Contexts
ST 178; Mediaeval Law and Theology 5. 2012. viii, 358 pp.
New in Paperback (2016): ISBN 978-0-88844-424-0 • $45.00
Casebound: ISBN 978-0-88844-178-2 • $85.00
This book investigates scholastic discussions of Christ's wills from Anselm of Canterbury to John Duns Scotus, concentrating on Thomas Aquinas.
The work advances understandings of scholastic Christology in two basic ways. First, it traces the development of scholastic discussions of Christ's wills, attending to the contested issues, to the context of debates, to the use of sources and distinctions, and to the larger implications of these discussions for scholastic Christology. Second, the book utilizes this general analysis as a backdrop for examining the role granted to Christ's humanity by Thomas Aquinas. It argues that Aquinas, based upon his highly developed understanding of Christ's wills, his novel use of patristic sources, and his own terminological and conceptual advancements, portrays Christ's humanity as an instrumentum divinitatis that, through its free will and operation, acts as the instrumental efficient cause of salvation. As such, Thomas developed and extended Anselm's basic soteriological insight by highlighting the Incarnation and passion as the most fitting means for redemption precisely in their elevation of human dignity in intellect and will. Serious challenges, both medieval and modern, have been directed against Aquinas's Christological formulations. In responding to these challenges, the book demonstrates the enduring value of Aquinas's Christology.
Author
Corey L. Barnes holds degrees from Oberlin College and the Yale Divinity School, and a doctorate from the University of Notre Dame. His research focuses on various themes in scholastic thought. His recent work includes essays and articles on Thomas Aquinas and Christ's prayer and on the bodily passions, as well as on person, hypostasis, and the hypostatic union in Albert the Great and Aquinas. He is an assistant professor of Religion at Oberlin College, where he teaches in a number of areas, including the history of Christianity, medieval philosophy of religion, and religion in the Mediterranean world.
Endorsement
"An exemplary piece of historical theology! Barnes's fine-grained but nimble analysis of Aquinas's conception of Christ's humanity, carefully situated within its thirteenth-century scholastic context, illumines both the crucial dependence and remarkable originality of the Dominican's mature Christology. It also points up the perduring theological value of the highly integrated nature of scholastic reflection on the person and work of Christ." 
     – Boyd Taylor Coolman, Boston College
Reviews
"These objections aside, this book is a signal scholarly achievement. It is the author's first book, based on his Notre Dame dissertation. But it is a book which a senior scholar with decades of familiarity with the figures treated would be expected to publish. Its strengths are deeply impressive. The acuteness and perceptiveness of Barnes's analysis are matched by his unfailing lucidity of exposition and his erudite command of previous scholarship. With this book, Barnes takes his place as a rising star among interpreters of medieval Scholastic theology. His arrival in that firmament is as warmly to be welcomed as it is auspicious."
   – Marcia Colish, in The Thomist (2014)
Ordering
Detailed information about ordering, including sales territories and methods of payment, is available on our ordering page. PIMS books are also available on Amazon.