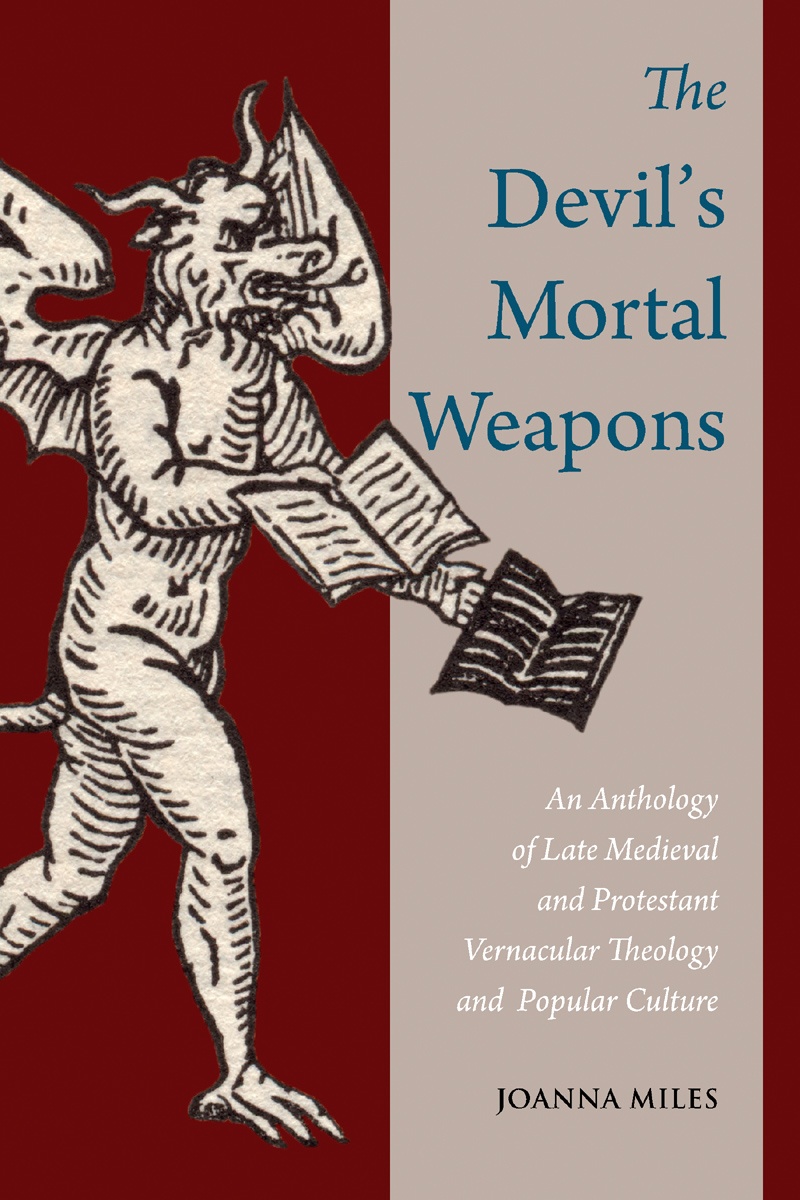 The Devil's Mortal Weapons: An Anthology of Late Medieval and Protestant Vernacular Theology and Popular Culture
xvi, 400 pp. 2018. ISBN 978-0-88844-427-1 • Paper • $35
To many English Protestants, the centuries before the Reformation were an inseparable part of their own early modern cultural, religious, and textual present. However, it is not easy to discern the true scope of the Protestant engagement with the pre-Reformation past in texts in which no such engagement was openly signalled by the author or printer, and it is not always easy to distinguish the influences that shaped much of such textual output.
In order to address less obvious or straightforward influences, and map their place in the study of continuity and discontinuity between pre- and post-Reformation England, the present book contains a selection of texts that involve boundaries and their permeable nature, since boundaries reflect aspects of identity both openly acknowledged and unconsciously conveyed. Part 1 treats spiritual boundaries and moral peripheries (sin, emotion, spiritual health), and Part 2 physical boundaries and interactions (body, mind, physical health). Each deals directly or indirectly with religion, either through a discussion of explicitly religious problems or through the application of religious vocabulary or context to a work not overtly religious in nature, thus revealing religion as a culturally formative and significant force. Together they encompass a broad survey of English history, society, and science on the threshold of modernity.
Each late medieval text in this volume is paired with an early modern Protestant counterpart on the same topic; through this selection of primary sources, a history of engagement, hints of continuity, and evidence of discontinuity between these two periods can be traced. By investigating how boundaries and contrasts were contested and negotiated in pre-Reformation and early modern Protestant England, we can determine aspects of cultural identity prevalent in both periods, and thus reflect on how Protestants defined themselves and their world in relation to the past they inherited.
Endorsements
"The Devil's Mortal Weapons is a refreshingly new and different compilation of materials on a range of topics not generally brought together in the same place in collections of this kind. Joanna Miles has made us rethink the way that contemporaries in the long early modern period regarded such issues – everything from sin, divine wrath, and death to spiritual and physical health – and about the vexed question of what constituted continuity and change in the process which we refer to, for convenience, simply as 'the Reformation'." — Michael Questier, Durham University and Vanderbilt University
Ordering
Customers in North America please order through University of Toronto Press Distribution by phone (1-800-565-9523) or by email (utpbooks@utpress.utoronto.ca). If you would like to order through UTP Distribution using another method such as mail or fax, please click here for a full list of contact and ordering methods. PIMS books are also available on Amazon.
Customers outside North America please order through Brepols Publishers. PIMS books are available through the Brepols online catalogue.
To view our desk copy policy, click here.