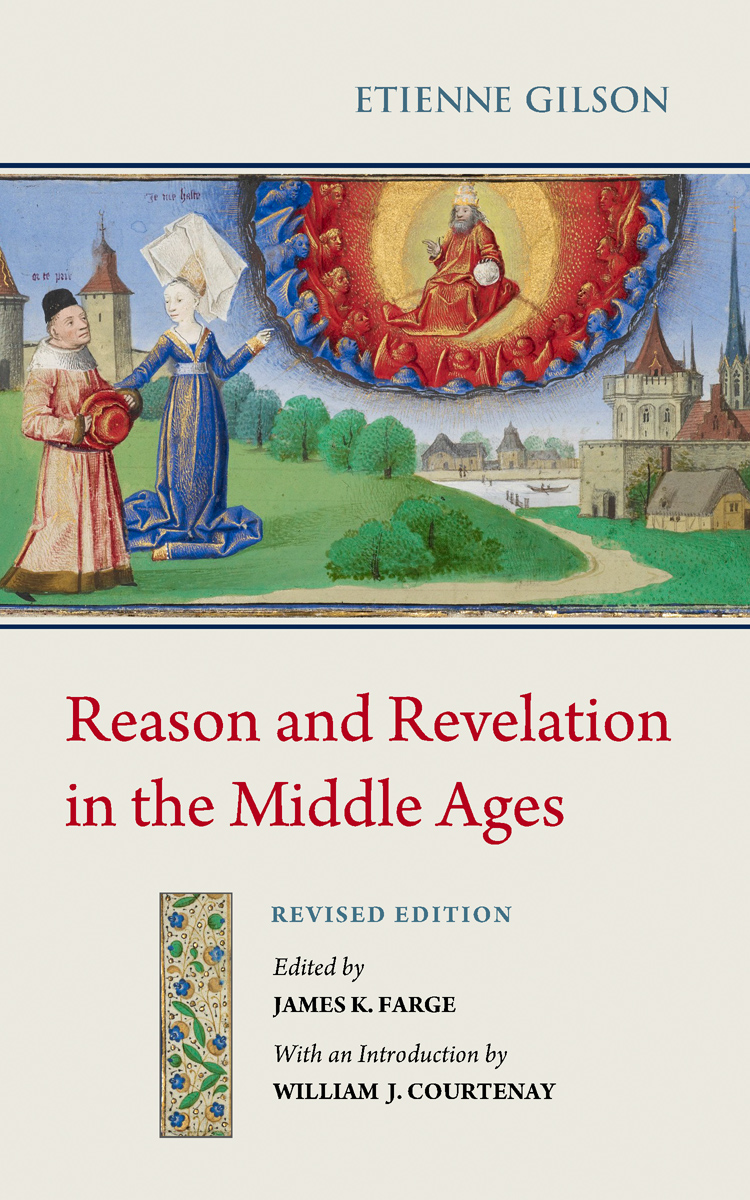 Reason and Revelation in the Middle Ages
116 pp. • ISBN 978-0-88844-428-8 • Paper • $20
Etienne Gilson's Reason and Revelation in the Middle Ages, first delivered as the Richard Lectures in 1937, was published in 1938 and became an immediate success. Not only does it contribute to a major question of debate in Christian, Jewish, and Islamic philosophy and religion in the medieval period but it also insists on the validity of truth obtainable through reason as well as revelation, of rational argument alongside religious faith. This message is as important in the twenty-first century as it was in the fourth century of the young Augustine, the thirteenth of St Thomas Aquinas, and the twentieth of the mature Gilson.
Authors
Etienne Gilson (1884–1978), eminent historian of medieval philosophy and theology, was co-founder, with Father Henry Carr, CSB, of the Pontifical Institute of Mediaeval Studies.
James K. Farge is Fellow of the Institute and Curator of the Etienne Gilson Collection in the Institute Library; his most recent publication is Religion, Reformation, and Repression in the Reign of Francis I: Documents from the Parlement of Paris, 1515–1547 (2015).
William J. Courtenay is Hilldale Professor Emeritus and C.H. Haskins Professor Emeritus in the Department of History at the University of Wisconsin-Madison; he is most recently the author of Rituals for the Dead: Religion and Community in the Medieval University of Paris (2019).
Endorsements
"In three short chapters, and with a few brief strokes, Professor Gilson has succeeded in outlining three dominant threads in the problem of the relations between reason and revelation in the Middle Ages. Those who have read the James Lectures on the Unity of Philosophical Experience will find in the Richards Lectures ... a welcome complement to Gilson's discussion of the role and the fate of rational speculation within the unity of Christian thought during the Middle Ages. ... At the present moment when so much is written on medieval thought, and when the historical landscape is so mobile, it is extremely useful to follow a master guide in a simple but sure presentation of the most important problem confronting medieval thinkers." — Anton Pegis
Ordering
Customers in North America please order through University of Toronto Press Distribution by phone (1-800-565-9523) or by email (utpbooks@utpress.utoronto.ca). If you would like to order through UTP Distribution using another method such as mail or fax, please click here for a full list of contact and ordering methods. PIMS books are also available on Amazon.
Customers outside North America please order through Brepols Publishers. PIMS books are available through the Brepols online catalogue.
To view our desk copy policy, click here.