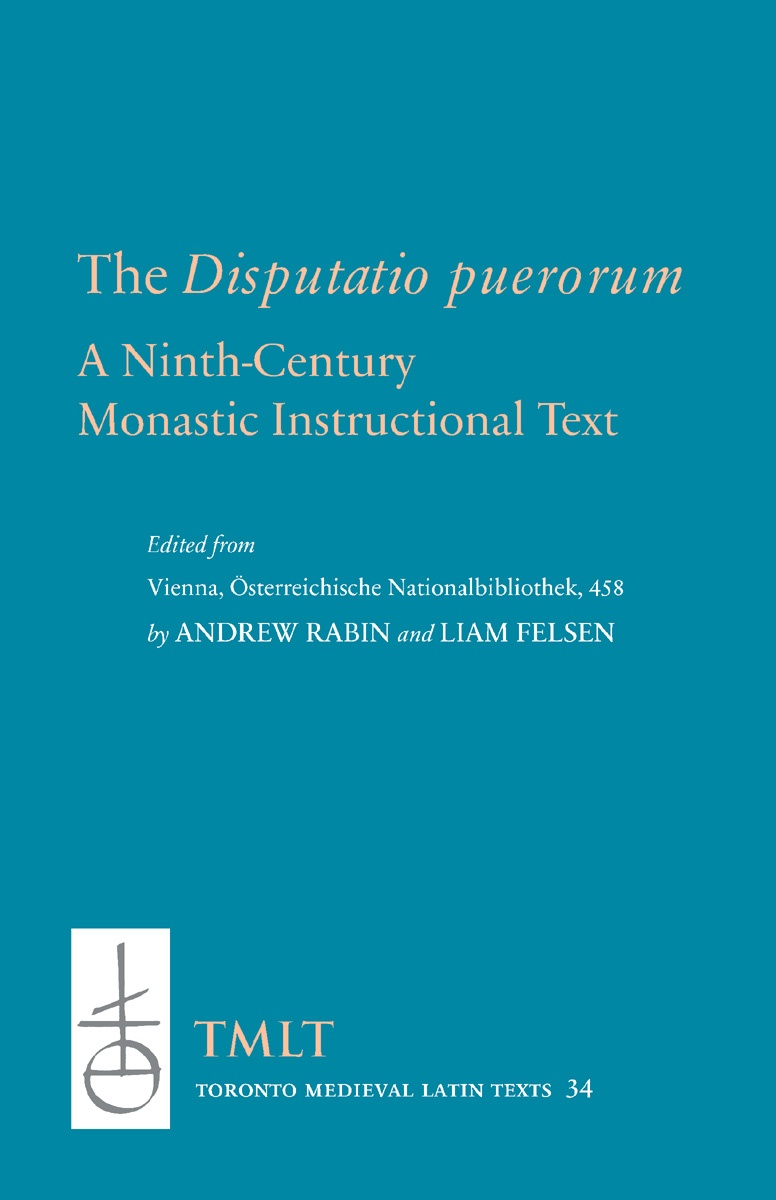 The Disputatio puerorum: A Ninth-Century Monastic Instructional Text
Edited from Vienna, Österreichische Nationalbibliothek, 458
TMLT 34. viii, 102 pp. 2017. ISBN 978-0-88844-484-4 • Paper • $19.95
A school dialogue most likely composed in southeastern Germany in the early ninth century, the Disputatio puerorum offers a vivid and direct glimpse into the sort of instruction received by monastic novices and oblates in abbey schools of the Carolingian and Holy Roman Empires. Its question-and-answer format between students and master deploys an elementary Latin that would have consolidated linguistic skills at the same time as offering instruction on the nature of body and soul, the books of the Old and New Testaments, the Mass, and the Lord's Prayer. The text's intrinsic interest for historians of early medieval education is matched by its usefulness to modern students as a short course in what constituted basic cultural literacy in the monastic schoolrooms of the ninth through eleventh centuries, as drawn above all from the works of Isidore of Seville, but also from Augustine, Gregory the Great, Bede, and Alcuin.
Published for the Centre for Medieval Studies by the Pontifical Institute of Mediaeval Studies.
Editors
Andrew Rabin is Professor of English at the University of Louisville and Fellow of the Royal Historical Society. He is the author of The Political Writings of Archbishop Wulfstan of York (Manchester, 2015) as well as numerous articles in such journals as Modern Philology, Studies in Philology, Mediaeval Studies, JEGP, Neuphilologische Mitteilungen, and Speculum.
Until 2013, Liam Felsen was an Associate Professor of English Literature at Indiana University Southeast in New Albany, Indiana. He specialized in Medieval Studies and taught courses in Old English, Middle English, Chaucer, Shakespeare, Tolkien, King Arthur, and Science Fiction/Fantasy. In 2013, he left academia to become an attorney, and is now a Senior Associate at Frost Brown Todd, LLC in Louisville, Kentucky, focusing his practice on Product Liability, Insurance Defense, and Commercial Litigation.
Ordering
Customers in North America please order through University of Toronto Press Distribution by phone (1-800-565-9523) or by email (utpbooks@utpress.utoronto.ca). If you would like to order through UTP Distribution using another method such as mail or fax, please click here for a full list of contact and ordering methods. PIMS books are also available on Amazon.
Customers outside North America please order through Brepols Publishers. PIMS books are available through the Brepols online catalogue.
To view our desk copy policy, click here.