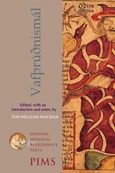 Second edition. DMRT 1. 2008. viii, 142 pp. ISBN 978–0–88844–561–2 • $22.95
In this Old Norse poem from the height of the Viking Age, the god Óðinn and an ancient giant named Vafþrúðnir engage in a deadly game requiring bravery, courage, and cunning.
View prelims and contents
Ordering
Customers in North America please order through University of Toronto Press Distribution. Please contact UTP Distribution directly by email, phone, or mail (PIMS books are not available through the UTP online catalogue). PIMS books are also available on Amazon.
Customers outside North America please order through Brepols Publishers. PIMS books are available through the Brepols online catalogue.
To view our desk copy policy, click here.