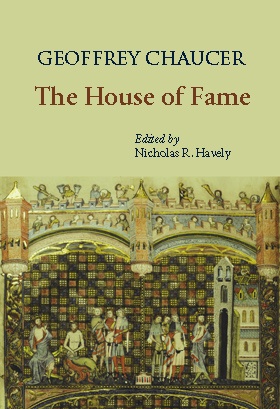 Geoffrey Chaucer: The House of Fame
Second edition. Durham Medieval and Renaissance Texts 3. 2013. xiv, 274 pp.
ISBN 978–0–88844–563–6 • Paper • $27.50
The House of Fame is an omnivorous poem. Like its own "House of Rumour," it draws in a multiplicity of material: literary and technological; old and new; learned and lewde. The present edition is based on a collation of five witnesses and provides a substantial list of variants.
View prelims and contents  
Ordering
Customers in North America please order through University of Toronto Press Distribution by phone (1-800-565-9523) or by email (utpbooks@utpress.utoronto.ca). If you would like to order through UTP Distribution using another method such as mail or fax, please click here for a full list of contact and ordering methods. PIMS books are also available on Amazon.
Customers outside North America please order through Brepols Publishers. PIMS books are available through the Brepols online catalogue.
To view our desk copy policy, click here.