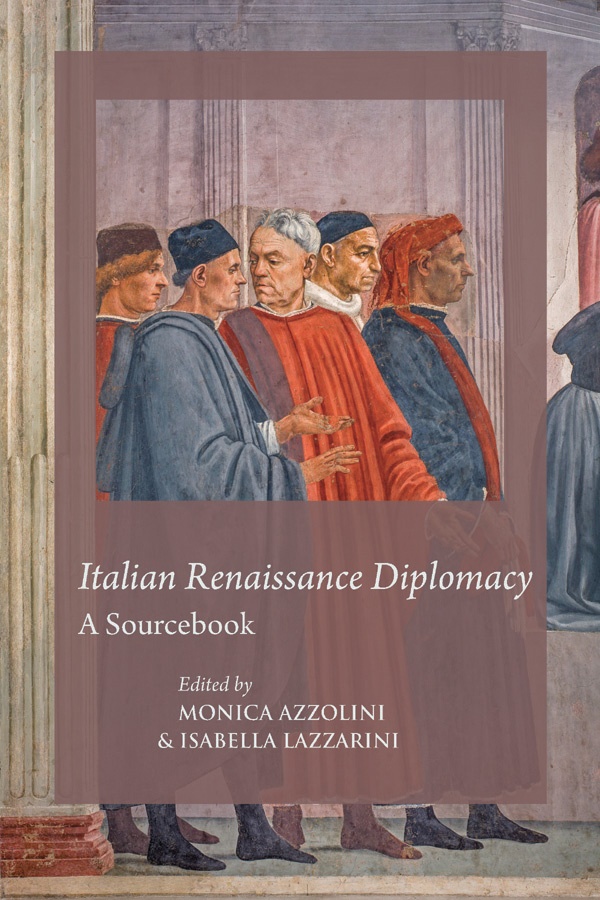 Italian Renaissance Diplomacy: A Sourcebook
Durham Medieval and Renaissance Texts and Translations 6. 2017. xii, 300 pp. plus 6 plates. ISBN 978-0-88844-566-7 • Paper • $30.00
During the period ca. 1350–ca. 1520 covered by the present volume, diplomatic sources became extremely rich and abundant. This sourcebook presents a selection of primary materials, both published and unpublished, which are mostly unavailable to English readers: a broad range of diplomatic sources, thematically organized, are introduced, translated, and annotated by an international team of leading scholars of the Italian Renaissance.
Diplomacy has never been a politically neutral field of historical research, even when it was confined to merely reconstructing the context of wars and revolutions. Since the nineteenth century, Renaissance Italy has been at the forefront of scholarship on diplomacy; today, with increasing awareness of the long history of the subject as well as a broader spectrum of case studies, the study of Italian diplomacy has become sophisticated and highly articulated, offering scholars many new directions for further exploration. The aim of this volume is to illustrate the richness of diplomatic documents both for the study of diplomacy itself as well as for other areas of historical investigation, such as gender and sexuality, crime and justice, art and leisure, and medicine.
Contents
Abbreviations • vii
Acknowledgements • ix
Map • xi
Figures • following page xii
Introduction • Monica Azzolini and Isabella Lazzarini • 1
Part One: Diplomacy
Chapter 1 • Isabella Lazzarini • The Preparatory Work: From Choice to Instructions • 11
Chapter 2 • Brian J. Maxson • Diplomatic Oratory • 27
Chapter 3 • Isabella Lazzarini • The Conduct of the Embassy • 42
Chapter 4 • Isabella Lazzarini • The Final Report • 57
Part Two: Politics
Chapter 5 • John E. Law • Diplomacy and War • 75
Chapter 6 • Monica Azzolini and Isabella Lazzarini • Diplomacy and the Papacy • 96
Chapter 7 • Christine Shaw • Factions • 116
Chapter 8 • Serena Ferente • Women and Men • 128
Chapter 9 • Monica Azzolini • Ritual • 150
Part Three: Society and Culture
Chapter 10 • Trevor Dean • Crime and Punishment • 175
Chapter 11 • Elizabeth Horodowich • The Wider World: Foreigners, Travels, and Geography • 190
Chapter 12 • Timothy McCall and Sean Roberts • Art and the Material Culture of Diplomacy • 214
Chapter 13 • Monica Azzolini • Medicine and Astrology • 234
Chapter 14 • Alessandro Arcangeli • Games and Leisure Activities • 255
Contributors • 270
Index of Translated Documents • 273
General Index • 277
Editors
Monica Azzolini is Senior Lecturer in History at the University of Edinburgh. She has written extensively on Leonardo da Vinci's anatomical studies and on Renaissance astrology. Her first book, The Duke and the Stars: Astrology and Politics in Renaissance Milan, appeared with Harvard/I Tatti Studies in Italian Renaissance History in 2013. She is now working on a new project that investigates the distinctive culture of disaster of early modern Italy from the joint perspectives of religious history and the history of science. She hopes that this project will eventually expand into a more global study of the significance of natural disasters in reshaping the European understanding of nature in the seventeenth and eighteenth century.
Isabella Lazzarini qualified as Professor of Medieval History in 2013; she teaches at the University of Molise. Her research interests focus on the political, social, and cultural history of late medieval Italy, with an emphasis on Renaissance diplomacy and the growth of different political languages in documentary sources. Among her recent publications are Amicizia e potere. Reti politiche e sociali nell'Italia medievale (2010); The Italian Renaissance State, edited with Andrea Gamberini (2012), and Communication and Conflict. Italian Diplomacy in the Early Renaissance (1350–1520) (2015).
Endorsements
"History is the study of our past, not as a collection of isolated fields but rather as an integrated whole, involving entire political societies and the progressive evolution of the state. History is therefore marked by change. Ever since the appearance of what is more or less conventionally referred to as the 'modern state,' but before the era of printed newspapers, the most eloquent source for such change was diplomatic correspondence, which increased in volume as a consequence of the intense relationships that developed in particular between Italian and European polities. The diplomatic letter, and its imposing presence in the Italian archives of the late Middle Ages and the early Renaissance, is the protagonist of the present volume, which gathers some of the best research on Italian Renaissance diplomacy, politics, and society of the past three decades. This sourcebook by Monica Azzolini and Isabella Lazzarini has the power of reigniting interest in how our complex political and social past serves as a fundamental part of our culture." — Riccardo Fubini, University of Florence

"Monica Azzolini and Isabella Lazzarini have assembled an excellent set of sources on a much needed subject. The book's strength lies in its wide array of topics, including diplomatic oratory, ritual, astrology, and games and leisure. They provide a close look at the nuances of diplomacy in the Italian Renaissance. The scholarly introductions to the material are all first rate." — William Caferro, Vanderbilt University
Ordering
Customers in North America please order through University of Toronto Press Distribution by phone (1-800-565-9523) or by email (utpbooks@utpress.utoronto.ca). If you would like to order through UTP Distribution using another method such as mail or fax, please click here for a full list of contact and ordering methods. PIMS books are also available on Amazon.
Customers outside North America please order through Brepols Publishers. PIMS books are available through the Brepols online catalogue.
To view our desk copy policy, click here.