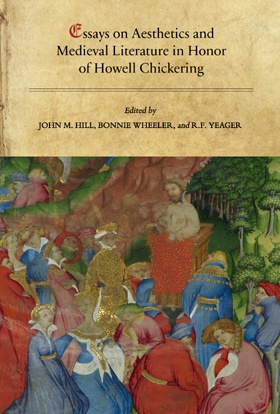 Essays on Aesthetics and Medieval Literature in Honor of Howell Chickering
Papers in Mediaeval Studies 25. 2014. viii, 298 pp.
ISBN 978–0–88844–825–5 • Cloth • $90.00
This volume celebrates the fullness of Howell Chickering's reach, with contributors responding to his extensive scholarship on Old English as well as Middle English subjects – Chaucer especially, but also Sir Gawain and the Green Knight, Gower, Lydgate – as well as his other interests from the Middle Ages to medievalisms both Romantic and modern.
Reflecting the strong aesthetic turn in literary studies, these powerful, persuasive essays keep an eye on the seductions of beauty while offering fresh approaches to medieval poetics. Significant new scholarship, they open out to a wide range of medieval poems and poetical features, as well as to the aesthetic preoccupations of nineteenth-century medievalism. The contributors honor Howell Chickering's multi-faceted work on poetic energy, metrical surprise, and the sonic features of sense by, collectively, moving insightfully across early medieval fragments, such as "Caedmon's Hymn" and The Battle of Maldon, to the art of depicting psychological states in Old English narrative, the sublime aesthetics of terror in Beowulf, and pitch as well as deep and surface proportioning in The Dream of the Rood. For Chaucer's Age, well-researched contributions assess modes of beauty in Troilus and Criseyde, surprising unity in Chaucer on women and love, the aesthetic implications of grammatical choices and forms, and the celebration of art in Gower's French balades. Good fun is had with the artful humor of insatiable wives in the Canterbury Tales, along with the practical and gustatory aesthetic of Lydgate's culinary poems. The focus on medieval poetry rounds out with thoughtful essays on mystical poetry and prose and on the challenges of translating ambiguity in Sir Gawain and the Green Knight. The gathering closes, however, in intellectually and artistically striking ways with essays on Coleridge and medievalism, and, finally, the page design, ornamentation and typeface beauties of the Kelmscott Chaucer. Pleasure and delight abound in a most fitting tribute to the broad impact of the career of Howell Chickering, the G. Armour Craig Professor of Language and Literature at Amherst College.
View prelims and contents.
Editors
John M. Hill teaches Anglo-Saxon literature and fourteenth-century English poetry at the U.S. Naval Academy. He is the author of Chaucerian Belief (1991), The Cultural World in Beowulf (1995), The Anglo-Saxon Warrior Ethic (2000), and The Narrative Pulse of Beowulf (2008). He has also edited Reconstructive Polyphony: Studies in the Rhetorical Poetics of the Middle Ages, with Deborah Sinnreich-Levi (2000), On the Aesthetics of Beowulf and other Old English Poems (2010), and special issues of The Heroic Age and Philological Quarterly.
Bonnie Wheeler is Director of the Medieval Studies Program and Associate Professor of English at Southern Methodist University. She has edited, co-edited, and co-written thirteen books, most recently The Letters of Heloise and Abelard: A Translation of their Collected Correspondence and Related Writings (2009). She serves on the Executive Board of TEAMS, the Committee on Teaching the Middle Ages, which she founded. She is also founding editor of Arthuriana, and editor of peer-reviewed book series for Palgrave Macmillan including The New Middle Ages and Arthurian and Courtly Cultures.
R.F. Yeager is Professor of English and Foreign Languages at the University of West Florida. He is editor of JGN: The John Gower Newsletter, and has published widely on medieval English and European literatures. He has edited and translated John Gower: The Minor Latin Works (2005) and a companion volume, John Gower: The French Balades (2011); with Brian W. Gastle, he has co-edited Approaches to Teaching John Gower's Poetry (2011).
Endorsements
"I have never met Howell Chickering, but I remember teaching myself Old English decades ago with the help of his dual-language edition of Beowulf. A much admired teacher and colleague, he has had a wide-reaching impact, and well deserves this Festschrift of essays in his honour. The contributors include an impressive range of scholars working in the field. Many of the essays in this volume focus on the aesthetic qualities of specific works of vernacular English poetry and prose. Some, like Chickering's own papers, start with philological questions, others circle around questions of form, and a handful of very successful essays tackle nineteenth- and twentieth-century medievalism. The volume deserves a warm welcome, and should interest not only students of Old and Middle English but also those keen to probe the limits of the 'new formalism' and to test the reach of aesthetic categories in the analysis of the literature of the middle ages." – WILLIAM ROBINS, University of Toronto
Ordering
To order this book, please print and fill out the convenient PDF order form. Detailed information about ordering, including sales territories and methods of payment, is available on our ordering page. PIMS books are also available on Amazon.