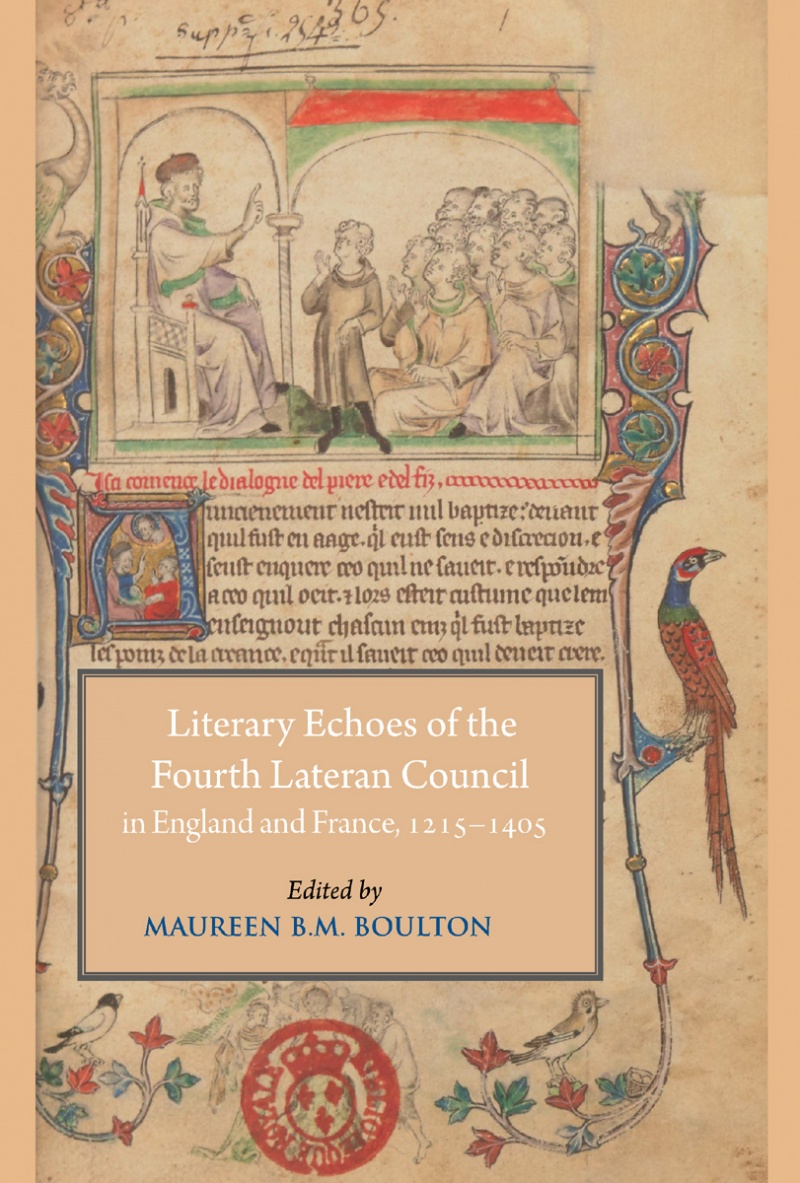 Literary Echoes of the Fourth Lateran Council in England and France, 1215–1405
Papers in Mediaeval Studies 31 • 2019 • x, 322 pp. • ISBN 978-0-88844-831-6 • Cloth • $95
The thirteenth century saw a blossoming of religious literature aimed at the laity composed in the vernacular as well as in Latin for the preachers who ministered to them. It has been traditional in literary history to attribute this vernacular creativity to the Fourth Lateran Council. Although the Council was part of a longer tradition of Church reform, it nonetheless crystallized theological and ecclesiastical thought in a form that was a spur to composition by writers and preachers for more than a century. The aim of this volume is not to attempt a comprehensive account of the Council or its reach in religious writing of the period but to further our understanding of how lay people, largely neglected by earlier councils, received Lateran IV's doctrinal definitions and disciplinary rules. The essays gathered here concentrate on England, where bishops enacted the Council's reforms with particular enthusiasm, and France, where the earliest instructional literature appeared.
While the volume takes into account individual works that may have responded more directly to the decrees of the local bishops who enacted the canons proclaimed in 1215, it focuses on others in which the imperatives of the Fourth Lateran Council reverberate as literary echoes, revealing remarkable and often surprising connections with the larger historical and religious context. The texts discussed span the many languages of England and France of the period: Latin, Anglo-Norman, Middle English, Old French, and Occitan. The interpretation of literature that undergirds the entire collection is suitably broad, ranging from chanson de geste and Chaucer's Canterbury Tales to didactic works, and encompassing along the way both biblical translations and sermons whose use of literary techniques to engage their audiences makes them "literary," even if not always fictional.
Contents
Acknowledgments • vii
Abbreviations • ix
1 The Fourth Lateran Council and Vernacular Pastoralia: An Introduction • MAUREEN B.M. BOULTON • 1
Canons and Council
2 "The Nourishment of God's Word": Inter caetera (Canon 10) in England • ANDREW REEVES • 46
3 French Treatises on Confession, Mass, and Communion in the Thirteenth Century • MAUREEN B.M. BOULTON • 74
4 Humor at the Fourth Lateran Council • PETER J.A. JONES • 99
Literature and Manuscripts
5 Papal Discussions in a Chanson de geste: The Depiction of Crusade, the Lateran Council, and the Split Personality of the Canso de la Crozada • CAROL SWEETENHAM • 124
6 Guillaume le clerc de Normandie, Innocent III, and the Fourth Lateran Council • MAUREEN B.M. BOULTON • 145
7 Structures of Thought in Robert Grosseteste's Chasteau d'amour and the Tateshal Miscellany • ANNA SIEBACH-LARSEN • 170
8 Learning from an Anglo-Norman Apocalypse: Oxford, University College, MS 100 • DARON BURROWS • 197
9 Confessing Something New: The Twenty-First Canon of the Fourth Lateran Council and English Literature • WENDY R. LARSON • 229
Bibliography • 271
Contributors • 311
Index of Manuscripts • 313
Index of Names, Works, and Topics • 316
Editor
Maureen B.M. Boulton is Professor emerita of French at the University of Notre Dame and, since 2017, a Visiting Fellow at the Pontifical Institute of Mediaeval Studies. Her interests in medieval French literature, including that of England, have ranged from the relationship between lyric poetry and narrative to religious literature, especially the lives of Christ and his mother. The author of The Song in the Story: Lyric Insertions in French Narrative Fiction, 1200–1400 (1993), her most recent books are Piety and Persecution in the French Texts of England (2013) and Sacred Fictions of Medieval France: Narrative Theology in the Lives of Christ and the Virgin, 1150–1500 (2015). She was Ruth J. Dean's junior collaborator on Anglo-Norman Literature: A Guide to Texts and Manuscripts (1999).
Endorsements
"This collection's exploration of a spectrum of works for lay readers enriches our understanding of the Fourth Lateran Council's impact on the religious imagination in late-medieval England and France. Engaging with certain key canons of Lateran IV as well as its wide-ranging pastoral spirit, the volume examines the Council's literary aspects and offspring as well as its influence on everything from Occitan chanson de geste to the imaginative theology of Robert Grosseteste to the depiction of subjectivity in Middle English poetry. It offers readers both a thorough grounding in the didactic works and pastoralia of the period and a clear sense of their wider intellectual world that will be of value to scholars of religion, literature, and their shared concerns in this period." — Claire Waters, University of California, Davis
Ordering
Customers in North America please order through University of Toronto Press Distribution by phone (1-800-565-9523) or by email (utpbooks@utpress.utoronto.ca). If you would like to order through UTP Distribution using another method such as mail or fax, please click here for a full list of contact and ordering methods. PIMS books are also available on Amazon.
Customers outside North America please order through Brepols Publishers. PIMS books are available through the Brepols online catalogue.