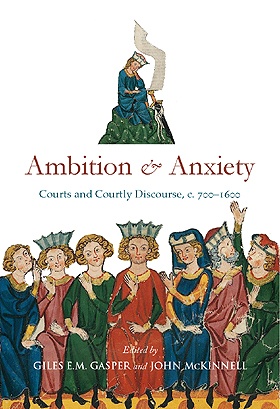 Ambition and Anxiety: Courts and Courtly Discourse, c. 700–1600
DMRME 3. 2014. vi, 270 pp. ISBN 978–0–88844–862–0 • Cloth • $90.00
Our knowledge of medieval and early modern courts usually depends to a large extent on their writers and artists. By examining literary works concerned with life at court, this volume hopes to address fundamental questions about high culture and its literary results within many different societies, including Tang China and the Ottoman Empire as well as western Europe.
Reviews
"This fine collection is destined to become a key reference work on the literary tradition of the courts. The essays are of clear value to scholars, yet also provide rich background indispensable for students and the non-specialist reader. Beautifully organized and thematically coherent with extensive bibliography, the volume's chronologic and geographic scope permits a broader perspective and demonstrates that the court as center of literary production is a cross-cultural phenomenon. The two articles on Eastern societies frame the collection, uniting it through the common thread of the ruler whose influence as patron and occasionally as poet serves as the motor behind much of the courtly literature discussed. The volume thus provides new insight into Western European high culture by expanding the horizons through which it is normally viewed. This multicultural perspective makes the volume a welcome addition to scholarship on courtly discourse and a foundational work for further interdisciplinary exploration of the world of the court." -- Ellen Thorington for The Medieval Review (2015)
Ordering
Customers in North America please order through University of Toronto Press Distribution by phone (1-800-565-9523) or by email (utpbooks@utpress.utoronto.ca). If you would like to order through UTP Distribution using another method such as mail or fax, please click here for a full list of contact and ordering methods. PIMS books are also available on Amazon.
Customers outside North America please order through Brepols Publishers. PIMS books are available through the Brepols online catalogue.