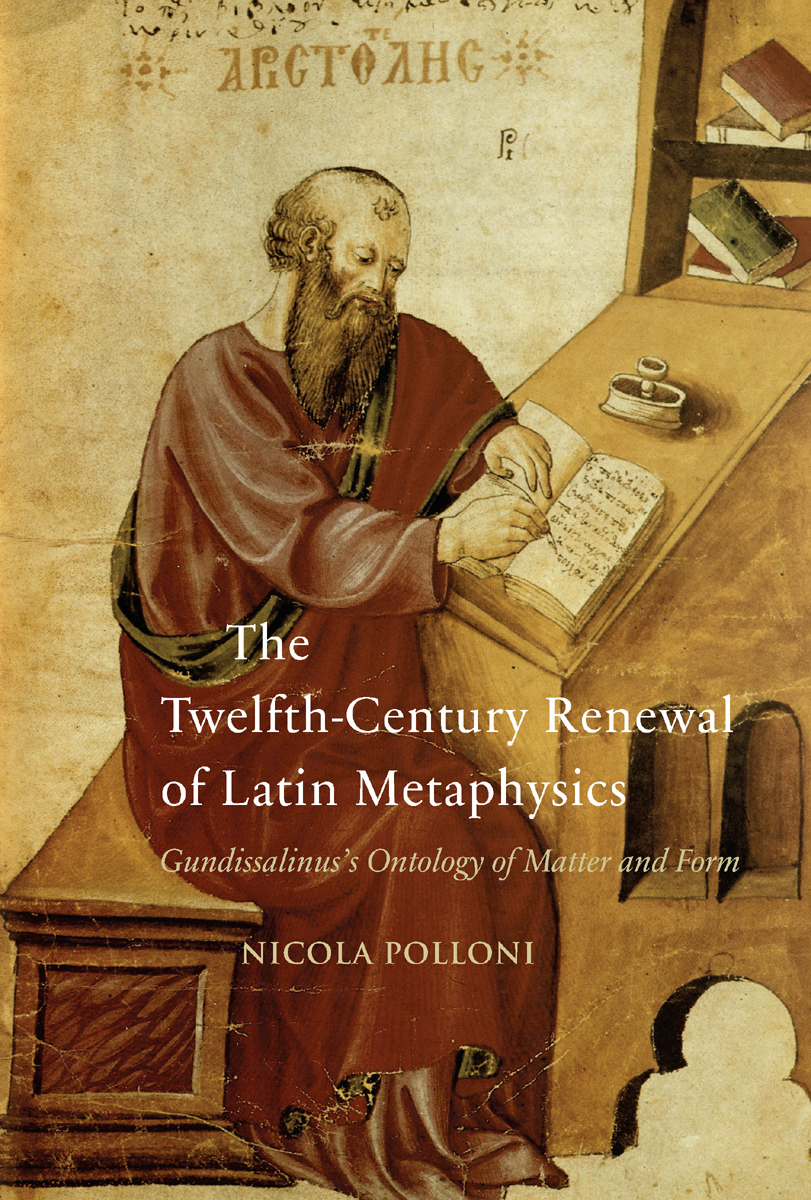 The Twelfth-Century Renewal of Latin Metaphysics: Gundissalinus's Ontology of Matter and Form
Durham Medieval and Renaissance Monographs and Essays 6. xiv, 318 pp. 2020. ISBN 978-0-88844-865-1 • Cloth • $95
Medieval metaphysics is usually bound up with Scholasticism and its influential exemplars, such as Aquinas and Duns Scotus. However, the foundations of the new discipline, which would reshape the entire edifice of Western philosophy, were established well before the rise of Scholasticism through an encounter with the Arabic philosophical tradition. The Twelfth-Century Renewal of Latin Metaphysics uncovers what rightly should be considered the first attempt to construct a metaphysical system in the Latin Middle Ages in the work of Dominicus Gundissalinus. It was to prove original, powerful, and far-reaching in every way. 
Author
Nicola Polloni is currently Alexander von Humboldt Research Fellow in the Institut für Philosophie at the Humboldt-Universität zu Berlin, and has held fellowships at the Universities of Durham, Notre Dame, and Pavia. His research is focused on the intertwining of Islamicate and Latinate traditions in medieval philosophy and science, and much of his work has been devoted to the reception of Aristotelian meta­physics and natural philosophy in the Latin West by the Chartrean masters, Gundissalinus, Robert Grosseteste, and Roger Bacon. The author of Domingo Gundisalvo: Una introducción (2017) and coeditor of two collections, his articles have appeared in a range of journals. 
Endorsements
"In this much-needed and insightful study, Nicola Polloni makes intelligible the complex life-work of the translator and philosopher Dominicus Gundissalinus, the first major thinker of the Latin West both to translate and to incorporate into his own writings the diverse Arabic traditions exemplified by the works of Ibn Gabirol, Avicenna, and al-Farabi. The Twelfth-Century Renewal of Latin Metaphysics provides scholars with not only an invaluable historical account of Gundissalinus's translations but also an acute philo­sophical analysis of the Spanish thinker's own revisionary inter­pre­tation of his sources that integrates his newly acquired ideas and doc­trines with his Christian inheritance." — Richard C. Taylor, Marquette University and Katholieke Universiteit Leuven
Ordering
Customers in North America please order through University of Toronto Press Distribution by phone (1-800-565-9523) or by email (utpbooks@utpress.utoronto.ca). If you would like to order through UTP Distribution using another method such as mail or fax, please click here for a full list of contact and ordering methods. PIMS books are also available on Amazon.
Customers outside North America please order through Brepols Publishers. PIMS books are available through the Brepols online catalogue.