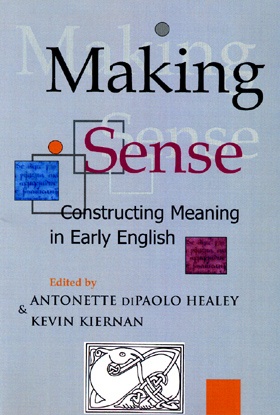 Making Sense: Constructing Meaning in Early English
Publications of the Dictionary of Old English 7. 2007. xii, 138 pp. ISBN 978–0–88844–907–8 • $24.95
The five essays in this volume discuss texts either from the Old English period or from the transitional twelfth century, and each explores, from differing perspectives, how today's readers make sense of, or construct meanings from, early English documents.
Published for the Dictionary of Old English by the Pontifical Institute of Mediaeval Studies
Ordering
Customers in North America please order through University of Toronto Press Distribution by phone (1-800-565-9523) or by email (utpbooks@utpress.utoronto.ca). If you would like to order through UTP Distribution using another method such as mail or fax, please click here for a full list of contact and ordering methods. PIMS books are also available on Amazon.
Customers outside North America please order through Brepols Publishers. PIMS books are available through the Brepols online catalogue.