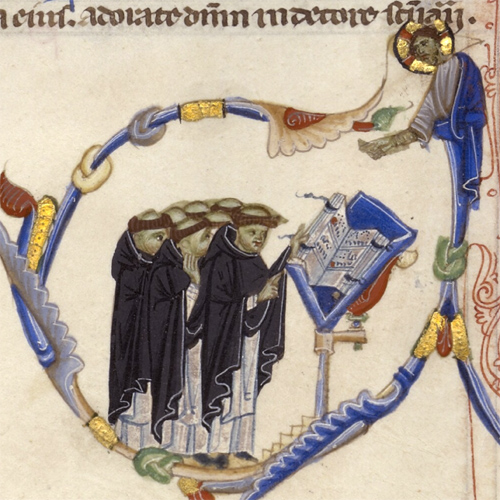 Ritual Life in the Medieval Dominican Order
The Pontifical Institute of Mediaeval Studies
This conference will focus on the rituals, chant, and texts of the Dominican liturgy during the medieval period, after the reform of the Rite under the Master of the Order Humbert of Romans (1256). Attention will also be paid to recent manuscript discoveries for the Translation of the Relics of St Thomas Aquinas (1368/69).
Featured Speakers
Margot Fassler, University of Notre Dame, USA
Eleanor Giraud, University of Limerick, Ireland
Dominik Jurczak, O.P., International Dominican Liturgical Commission, Rome
Constant Mews, Monash University, Australia
M. Michèle Mulchahey, Pontifical Institute of Mediaeval Studies, Toronto

Marika Räsänen, University of Turku, Finland
Innocent Smith, O.P., St Mary's Seminary and University, Maryland, USA

Richard Sundt, University of Oregon, USA
Augustine Thompson, O.P., Pontifical Institute of Mediaeval Studies, Toronto

Registration
Sessions will be held in person.
Registration is free but is required to attend sessions. Due to enthusiastic interest, capacity has been reached and therefore registration has been closed. To everyone who has registered in advance, we look forward to seeing you at the conference.
Programme
To download the programme as a PDF, please click here.
To view the programme online, please click here.
Liturgical Events
Liturgies in Dominican Chant will be open to the general public, and will take place at St Basil's Church, 50 St Joseph Street, Toronto.
SOLEMN VESPERS OF ST THOMAS AQUINAS, C. D.
Monday, March 6, 5:00 p.m.
SOLEMN MASS OF ST THOMAS AQUINAS, C. D.
Tuesday, March 7, 2:30 p.m.
Co-Sponsors
Dominican Institute of Toronto • Pontifical Institute of Mediaeval Studies • Leonard E. Boyle Chair in Manuscript Studies • Sheptytsky Institute of Eastern Christian Studies • University of St Michael's College • Basilian Fathers • Centre for Medieval Studies • Institute for Christian Studies
For more information, please contact Cynthia Watson at cynthia.watson@utoronto.ca.